Golf tournaments often rely on sponsors in addition to players to raise enough money. Marketing your golf tournament is vital to raising awareness of the event so more players can sign up. When your tournament draws a large crowd, sponsors benefit and will want to participate in your next event.
Here's how to market your charity golf tournament!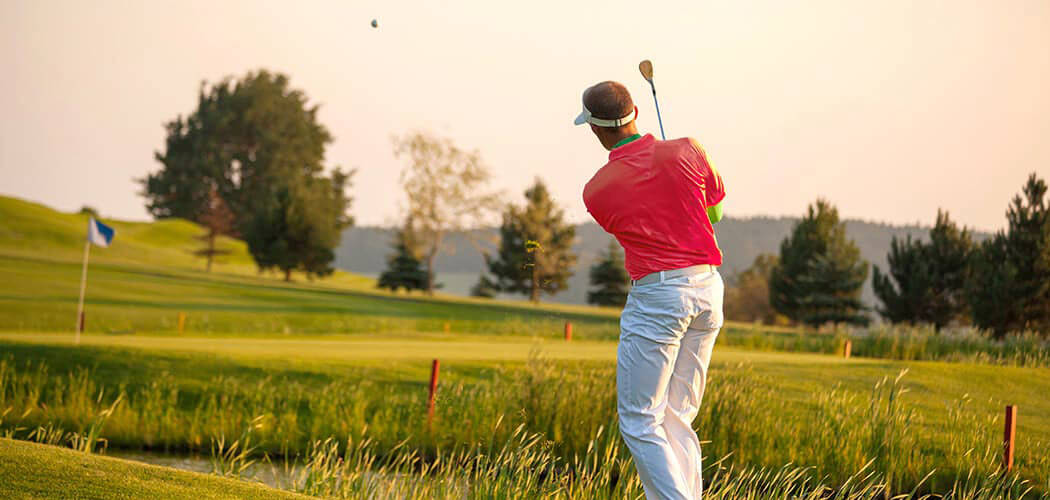 How to Promote a Golf Tournament
Digital marketing is a great way to spread the word about a golf tournament. Below are a few golf tournament promotions and marketing ideas that make it easy for people to discover and share information about your event.
1. Create Golf Tournament Website
A website is necessary to showcase all the important notifications and information about the event. It will tell people when and where it will take place, what the charity is about (if the event is not for profit), how to sign up, who the sponsors are, and what the day will entail.
You can include contact information, golf course descriptions, donation or registration goals, and much more. Make sure you use high-resolution photos and well-designed graphics!
2. Press Release for Local Media
A press release announcing the golf tournament is an excellent way to generate buzz in your community. Local news outlets will often feature positive community events or help raise awareness for charity. Consider hosting incentives like an auction or a contest, which may make it even more noteworthy for some publications to write about.
3. Social Media Marketing
Social media is one of the most effective tools in spreading the word in your community about an event. The host, charity, and even the golf course can team up to post about the tournament on their social media platforms.
Facebook Events are a popular and easy way for people to sign up or help share information. You can post about registration deadlines, the amount of money raised, the number of people who have signed up, feature a sponsor, and post any other reminders or changes that happen before the event.

Golf Tournament Sponsorship Ideas
Businesses will often be open to sponsoring events such as charity golf tournaments to market themselves and increase their reputation for good PR. There are several possible golf tournament sponsor ideas and opportunities for all kinds of businesses.
Event Title or Presenting Sponsorship
The title sponsor or presenting sponsor is usually the most important donor/sponsorship of the golf tournament. A title sponsor will be mentioned in the name of the event, while a presenting sponsor will have their name on top of the sponsors' list. These sponsorships are reserved for the largest donor.
Hole-in-One Sponsorship
A hole-in-one contest is often one of the most exciting events at a golf tournament. Since it's difficult to make an ace, the prize is usually very large so seek sponsors that are willing to pay the hole-in-one insurance cost or donate the winnings. Example prizes typically include things like a cash prize, vehicles, or whatever high-value prize that could creatively highlight their business.
Golf Outing Hole Sponsorship
Most of your sponsors can sponsor a hole so that people can see a sign with the business's name as they go to each tee. These sponsors will also be featured on the sponsor lists and on the tournament website.
If you need more golf outing hole sponsorship ideas, you could work with the sponsor to figure out where they'd like their sign placement to go as an extra cost. Some golf carts even have GPS navigation that can display the sponsor as they approach the hole.
Houston Sign can help you develop your golf outing hole sponsorship ideas and bring them to life! We can do signs of all sizes and even various shapes, including ones that look like golf balls. Learn more about our golf outing sponsor signs today!
Promotional Item Gift Bags
Many golf tournaments offer participants a gift bag full of golf items that can be used to display logos and businesses. These can include T-shirts, hats, golf balls and other equipment, towels, water bottles, etc. Businesses will donate their promotional items because this means their advertising can go beyond the day of the golf tournament.
At Houston Sign, we can also provide promotional items with logos. Popular giveaways include drinkware, tech products, tote bags, and even fidget spinners!
Food & Drink Sponsors
Meal sponsors will have their contribution displayed during lunch or dinner. You can increase the number of sponsorships by having a bar sponsor, dessert sponsor, etc.! Golf tournaments may also have mobile beverage carts going around which are very popular with attendees and therefore a valuable sponsorship opportunity. Be sure to supplement your food and drink sponsor promotion with custom banners in Houston.
Golf Cart Sponsorship
There will obviously be plenty of golf carts transporting people at a golf tournament, so this is a highly coveted sponsorship. The cart sponsor is usually exclusively featured on all golf carts or displayed on their GPS systems.
Houston Sign offers custom vehicle wraps and vehicle decals to turn your golf carts into moving advertisements!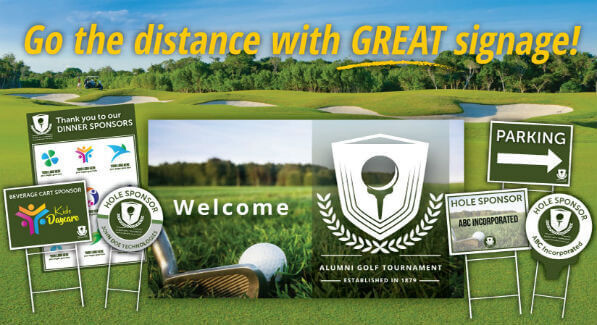 Raise More Money for Charity!
When promoting a charity golf tournament, you're going to need lots of custom business signs. Whatever you need, Houston Sign is happy to help. Our goal is to make the process as smooth and convenient as possible for our clients. If you're thinking of hosting a golf tournament, contact us today to get a quote for all your golf tournament sign needs!