>> Shop Our Online Store for Custom Wrapping Paper Today!
Get Your Customizable Wrapping Paper Today
We design, print and deliver custom wrapping paper rolls for that special occasion. Transform your gift-giving with custom wrapping paper!
You spend hundreds of dollars each year wrapping up birthday, anniversary, and holiday gifts for those who matter most. What better way to add the finishing touch to this year's gifting than wrapping paper with your logo custom-printed on it!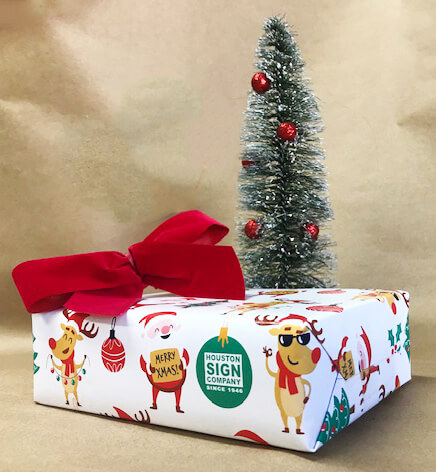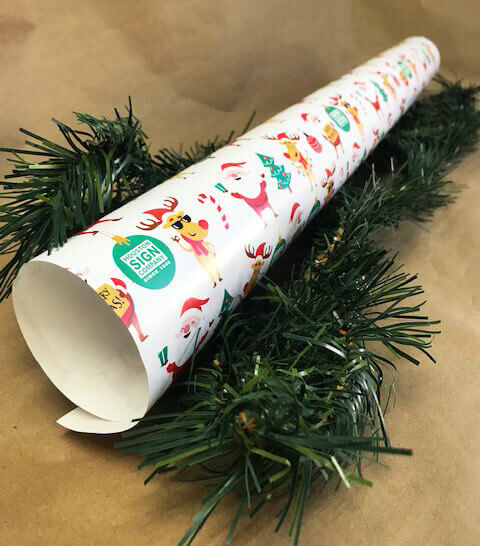 Great Gifts Deserve Great Wrapping Paper
Aside from creating custom signs in Houston, we offer customizable wrapping paper that can include your company logo. Stand out from your competition and be the only vendor who sends their Christmas gifts with custom printed wrapping paper that includes your logo. Small gestures go along way, little things make offices talk.
Think about when a vendor brings goodies for the office. Everyone rushes in and grabs a snack. If your gifts are presented in a unique and interesting way, people will talk.
Whether you need personalized wrapping paper for a birthday, holiday, or your business, we can deliver your customized product! Shop our online store and upload your artwork to easily turn your idea into a reality in no time.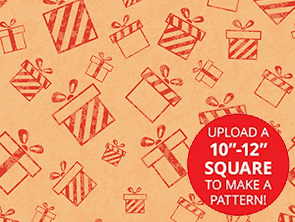 Custom Wrapping Paper
Occasions that Call for Custom-Printed Wrapping Paper
Because our custom wrapping paper rolls can be customized by our design team, you can include your company logo on designs for any occasion you choose. Applications include:
Christmas
Hanukkah
Birthdays
Anniversaries
Valentine's Day
Mother's Day
Father's Day
Easter
Graduations
Bar/Bat Mitzvahs
Weddings
Baby Showers
Gender Reveal Parties
Hassle-Free Design and No Minimums
Choose from templates or show us a style of wrapping paper you like. The choice is yours. With our on-demand design team, Houston Sign Company can help bring your brand to life with Christmas, Hanukkah or even specialty birthday wrapping paper.
Order a yard of custom wrapping paper or a whole roll of wrapping paper. We have no minimums. With no minimums, you can order custom wrapping paper for employee birthday gifts or anniversary parties.
Contact Houston Sign today to start building your brand with custom wrapping paper.