Trailer wraps are a fantastic way to add value to the trailer, bus, or 53′ van that you're already paying for. Your vehicle serves some sort of revenue-generating purpose, whether it's production (in the case of a food truck), a service (in the case of a bus), or supply chain fulfillment (in the case of a semi-trailer or pull-behind trailer). Our sign company in Houston can help you turn your production equipment into a powerful marketing tool.
Houston Trailer Graphics and Wraps
Being stuck in Houston traffic doesn't have to be unproductive. A trailer vinyl wrap immediately transforms your equipment into a mobile billboard that creates opportunities. A single vehicle graphic can nab between 30,000 – 70,000 impressions per day. Use Houston vinyl trailer graphics to tap into the surplus of local traffic today.
Some common applications of business decals for trailers in Houston include:
Landscaping trailer wraps
Food truck trailer graphics
Moving trailer vinyl graphics
Train and bus wraps
RV and large vehicle wraps
Construction trailer wraps and graphics
Band trailer graphics
O&G box trailer decals & wraps
Speak to an account manager at Houston Sign today to get started. The more information you have about the make, model, and dimensions of your vehicle or trailer, the more efficient the ordering process will be. We also offer vehicle wraps and truck wraps in the Houston area, but ask us about car and truck decals if you don't want a complete wrap.
Pull Trailer Wraps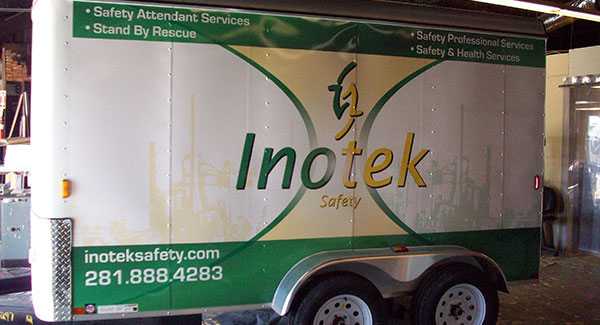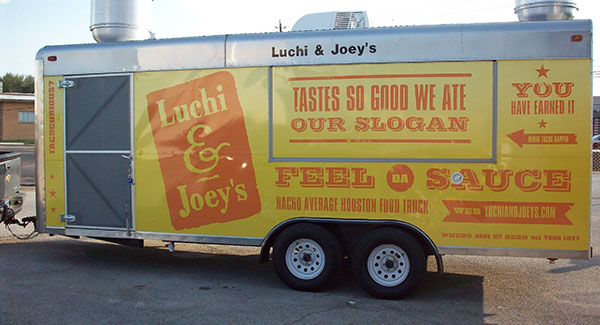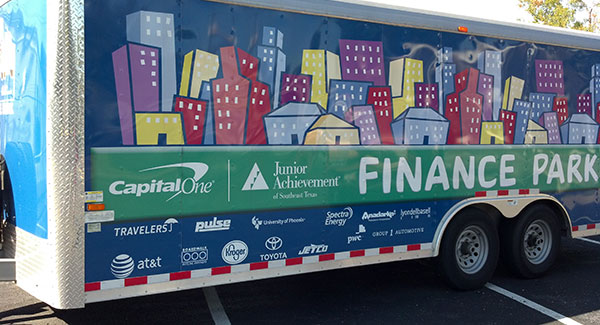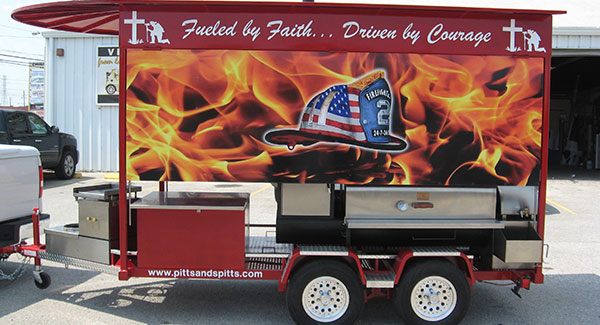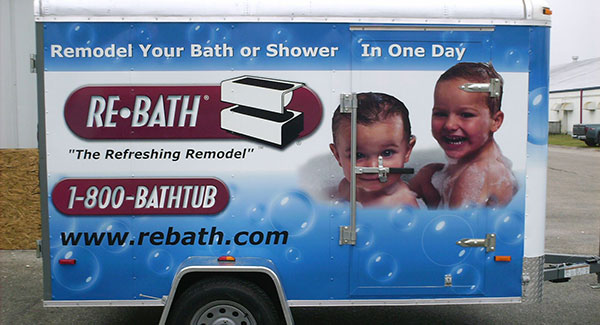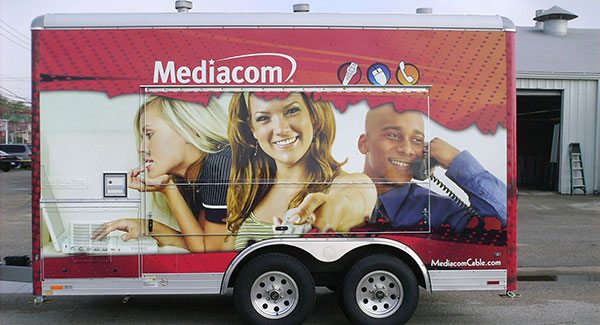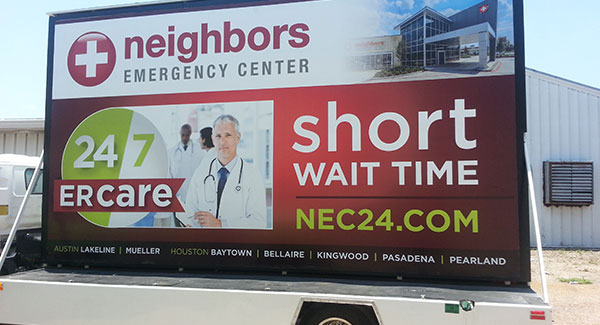 We have extended experience with pull-behind trailers, whether they're for bumper hitch or gooseneck trailers. Our trailer advertising signs have been used for consumer purposes like food trucks, as well as B2B applications like construction, remodeling, and managed safety services trailers.
Our account managers and graphic designers work with your existing brand guidelines and trailer dimensions to make sure your vinyl trailer wraps and decals are a good representation of your business. Our installation team has years of experience and our vinyl is durable so that quality is never in question.
Tractor Trailer Wraps & Graphics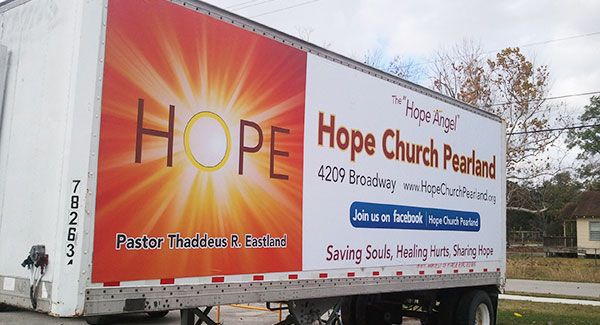 Tractor-trailer graphics in Houston are especially important due to the high amount of manufacturing and distribution in the area. We have experience suiting your fleet with MC numbers and DOT identification, as well as creating and installing full custom vinyl decals for trailers. Our design team can work within your specs while creating a stunning visual presentation for the thousands of drivers that will see your message and brand.
We do our best to keep 48′ and 53′ trailer wrap costs to a minimum, and nearly all of our work is done here in-house so you aren't paying margin to middle-men.
Full Bus Vinyl Wraps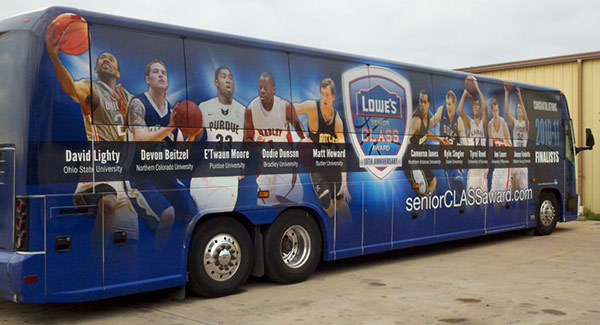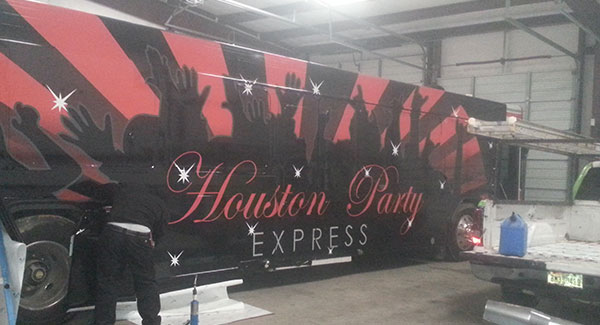 Custom trailer graphics make sense for buses too, as the length of most buses can be leverage to show off your brand. We can provide a combination of vinyl wraps and perforated window decals to make sure your public-facing branding and advertising are seamless, while your internal environment accommodates passengers.
Contact Houston Sign for Trailer Vinyl Wraps Today!
The account managers at Houston Sign are standing by and can guide you through the ordering, creation, and installation process for your new vinyl trailer wrap today.