When it comes to creating a safe and welcoming learning environment, school signs and signs for classrooms play a crucial role. In the Houston area, there are plenty of options available to shop for custom signs that cater to the unique needs of your educational institution. These signs can range from directional graphics to wall wraps and can be customized with your school's logo or specific messages.
Due to the increased demand for school safety and operations that follow CDC best practices and still heed the advice of the American Academy of Pediatrics, your campus may have additional signage needs. Houston Sign Company supported Houston area schools throughout the pandemic and will continue to provide signs that promote safety and compliance. Get more information on our plastic dividers for schools and classrooms for additional support.
School Signs and Banners for Your Houston-area Campus
Our sign company has been supporting the Greater Houston area since 1946 and can help you prepare. At Houston Sign, our indoor and outdoor signs for schools can be designed and printed for next-day delivery in many cases.
The following sections illustrate some common uses of school signage that our account managers have worked with school campuses to design and install. These signage types can include banners, directional signs, indoor office and lobby signs, and even vinyl wall wraps that can be used to improve student morale. Browse our selection, then call or contact us online to speak with one of our reps to place your order.
Options for Plastic Dividers
To learn more about the sizing options for classroom plastic dividers, explore the dimensions and configurations available below.
24″ x 23″ (1 Window)
24″ x 23″ (3 Windows)
24″ x 18″ (1 Window)
24″ x 18″ (3 Windows)
24″ x 16″ (1 Window)
24″ x 16″ (3 Windows)
Please contact us for pricing or additional information.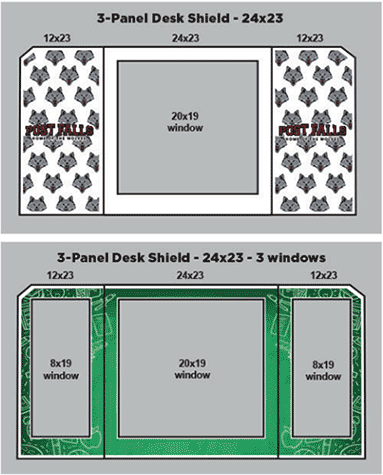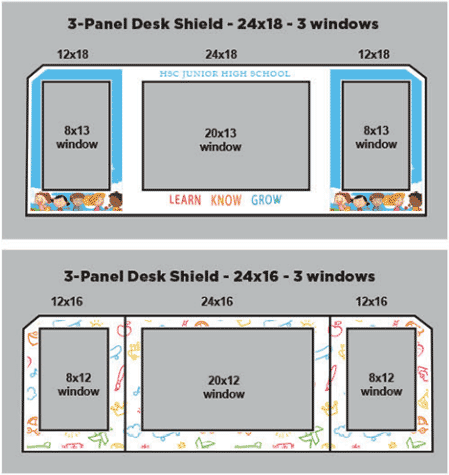 If you're interested in more school social distancing options, check out our Back to School Social Distancing Catalog!
Contact Houston Sign for Custom School Signs in Houston
With the help of custom signs, you can enhance the visual appeal of your school or classroom while also ensuring important information is clearly communicated to students, staff, and visitors. Whether you're looking for signs for a preschool, elementary school, or high school, there are plenty of options available to choose from.
So why wait? Take the first step towards creating a more engaging and organized learning environment by making Houston Sign Company the headquarters for all your school's signage needs. Our knowledgeable account managers have experience with nearly every type of campus signage available and can help you determine the right mix for your location.
Contact a Houston Sign account manager today for help with your upcoming order.