Commercial Vehicle Wraps for a Lasting Impression
Use your company vehicle to advertise your business with a custom car wrap. We design, print and install commercial car wraps for businesses in Houston and the surrounding areas.  Our car wraps are guaranteed for 3 years. Houston Sign Company can tailor your company car wraps to fit any existing brand style guidelines and budgetary constraints. See our blog post about getting affordable vehicle wraps for more information about our budget-friendly process. With commercial car wraps, reaching new customers is as simple as going for a drive.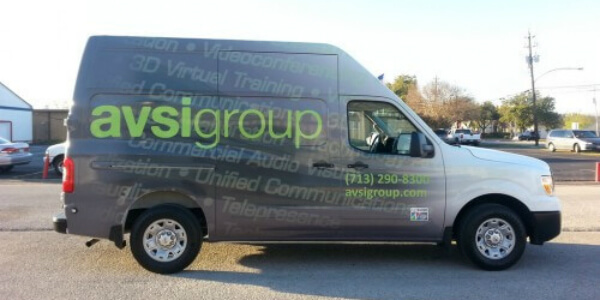 fleet wraps – Houston" width="600″ height="300″ />
Types of Commercial Car Wrapping in Houston
At Houston Sign, we offer the following options for business car wraps in Houston, TX:
car wraps
fleet wraps
van wraps
food truck wraps
other vehicle wraps
Cut Vinyl
Vinyl letters and logos on your vehicle are an economical way to outfit one car or an entire fleet. Car decals in Houston can give your fleet a uniform look that stands out for a clean, professional appearance.
Partial Car Wrap
If you would like to wrap your vehicle on a budget, a partial wrap could be the best option for you. Our graphic design team can create a unique look that turns heads by taking advantage of the billboard areas on the car. This helps keep your costs down compared to a full auto wrap, but creates the attention you need to attract new customers.
Full Company Car Wrap
A full wrap can cover the sides, rear, hood and trunk deck, or it can completely cover the vehicle, including rear windows and roofs. This will provide a completely unique, custom appearance. Wraps help you get your message to your customers without spending as much as a custom paint job.
Industry Leading Technology
At Houston Sign Company we use only the best 3M Controltac adhesive with 3M vinyl laminates on all of our car wraps, ensuring durability and longevity. The 3M technology used in our car wraps is weather, abrasion, and wear resistant, making a long-lasting car wrap. Using 3M Controltac adhesive allows us greater control when applying wraps to a vehicle to guarantee that graphics are perfectly aligned without any bubbling.
Three Year Warranty
Houston Sign Company uses top of the line 3M Controltac with matching 3M laminate for full commercial car wrapping in Houston. We stand behind the material and our work with a three-year warranty against material failure.
Design Time Included in Pricing
Houston Sign Company believes that every great car wrap starts with a great design. Our vehicle wrap services include 3 hours of design time with our graphic design team. Art can be completed via email or through face to face appointments
Gallery of Our Commercial Car Wraps in Houston
Check out our previous car wrapping jobs below!