Shop Our Online Store for Banners Today!
Full Range of Houston Banner Printing Capabilities
Houston Sign Company produces high-quality banners in full color have a long-term outdoor life. We can print a single banner for a sale, tradeshow or event. We can also handle 500 banners for your next in-store promotion or safety program.
For interest in more standard banners and signs, shop our online store to get your retractable banner (with stand) or X-stand banner (with stand) today!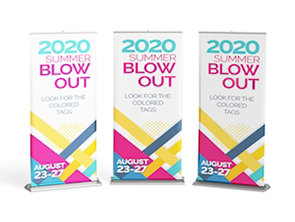 Retractable Banners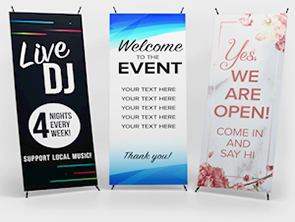 X-Stand Banners
Select the Best Banner Material
As one of the top sign companies in Houston, we can print a wide variety of banner materials depending on your application.
13 oz reinforced scrim banner material is our choice for general purpose banners.
Mesh banner material is excellent for installation outdoors that need to allow air to pass
Smooth banner material has a clean, smooth appearance and can be printed on both sides.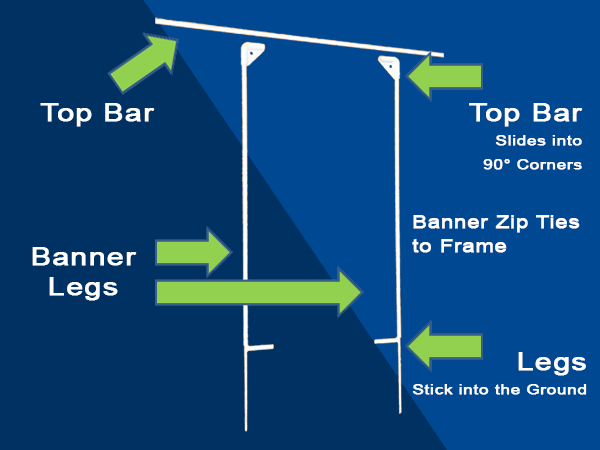 We Offer Banner Frames
Our banner bones make it possible to mount banners in the ground outside of your business. This is a great supplement to yard signs when it comes to attracting the attention of pedestrians and drivers. See how our banner bones work in this visual.
Installation is as easy as sliding frame components into place, and stepping on the leg handles to drive the legs into the ground. Ask us about these ready-made frames when you're placing your order!
Get the banner frame assembly PDF here!
Banner Finishing
Banners can be finished to suit any application. Houston Sign Company's banners are finished with a 1" hem and grommets every 24".  Our banners come standard to use in indoor or outdoor banner applications. For outdoor applications, you can include webbing in your hem to prevent tears and will increase the life of your banners.
Your banners in Houston come standard with Hems and Grommets spaced every 24". With our standard banner finishing, you can hang your banners using rope, bungee cords or hanging clips.
Some additional finishing includes Pole Pockets or Banners finished to fit into a frame system. We will automatically account for these changes if we are handling your banner design. Our knowledgeable Account Managers can assist you with any questions you have regarding finishing on Banners.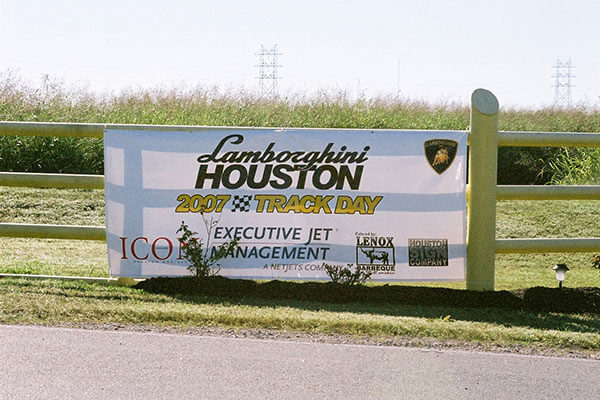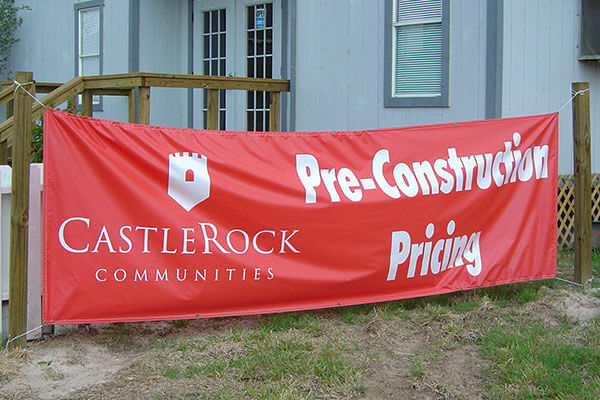 Common Uses of Custom Banners in Houston
Your Houston signs and banners can be used for countless applications. See two of the most common uses below.
Grand Opening Banners
Grand opening signs and banners are a great way to call attention to your new storefront. It's best if these banners supplement your existing business signage. To improve your branding from the inception of your new location, you can include a logo and brand colors in your grand opening sign design. Feather flags are a popular type of grand opening banner for both indoor and outdoor use – contact us for more information.
Grand Re-Opening Banners
If you're a Houston business that has been affected by shut-down orders, you'll want to be ready to re-open with a bang. Grand re-opening banners for restaurants, bars, clubs, and retail stores can help give you a much-needed competitive edge. Drive more foot traffic and increase order volume when you communicate to the world that you're back in business. If banners don't strategically suit your location, we also offer retail store signs and yard signs in Houston that are sure to resonate with your customer base upon re-opening!
Safety Banners
Safety banners are typically for internal use rather than to attract new customers. Safety banners and posters can be used to keep your workers mindful of policies that will help preserve their safety and the well-being of those around them.
Your safety banners and posters can outline an operational process or call out where certain safety hazards are located in your workspace. For example, warehouse safety banners can be posted above or next to loading docks that remind employees about safe forklift operation and the use of loading dock safety chains.
Banner Design in Houston
Banners deliver a message and attract interest. Sometimes, something as simple as text is all that your banner needs. However, some events like Sponsorship programs, Little League events and more require some more exciting graphics. Houston Sign Company's Design Team can help transform your banner into an eye-catching point of interest.
You should account for several key variables for your custom banner in Houston. For example, are you already aware of the size of the mounting location? If you're planning on using your banner at a tradeshow or conference, the mounting space is typically predetermined.
Be aware of the distance that your banner will be from readers. For instance, a roadside banner will need to be much larger than a banner fixed to a table. Keep in mind how close other competitive banners might be. If you're at a busy industry event, your design may need to push the limits of your brand's style guidelines to have a chance of being noticed.
Colors that are contrasting and use bright colors may be more attention-grabbing. Text that uses a large font-size with limited copy may also appeal to the eye. It's important that you reconcile color contrast with your brand style guide. If you have established colors and font sizes for your branding collateral, our Houston banner company can work with your style guide to create the best possible banner promotion!
Our experienced design team can help you create the perfect banner design to deliver your message.