Commercial Fleet Wraps Elevate Your Brand
The Houston Sign team designs, prints and installs fleet wraps in Houston and the surrounding areas. Our fleet rebranding is guaranteed for 3 years. We can tailor your commercial fleet vehicle wraps to align with existing brand style guidelines and budgetary parameters. For more information about our budget-conscious wrapping process, see our blog post about getting affordable vehicle wraps.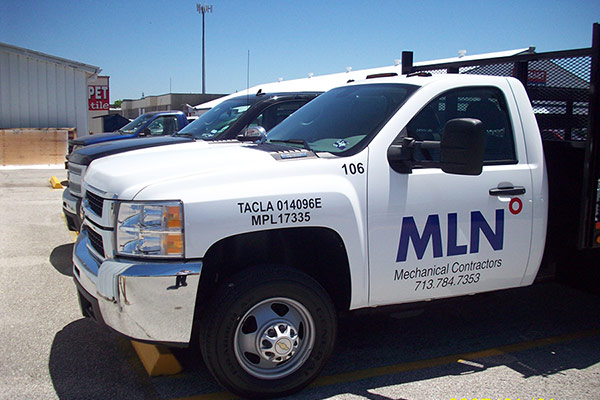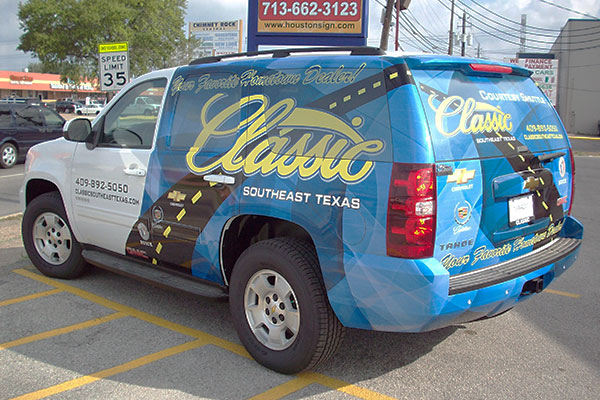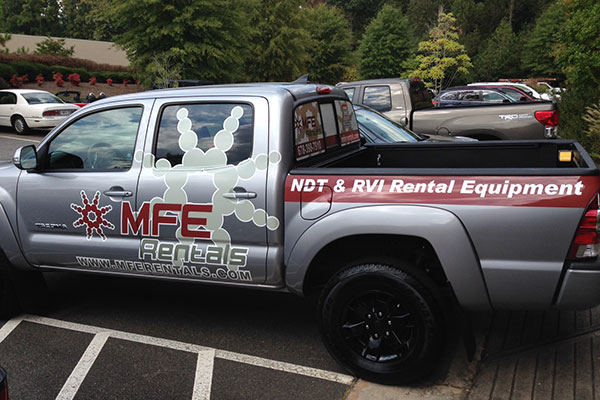 Benefits of Fleet Wraps & Graphics
Obviously, there is a cost to commercial fleet graphics and wraps, but we believe that getting your business fleet professionally wrapped is worth it. Consider the following benefits to commercial fleet vehicle wraps or decals.
Identifies Your Business
Wraps on service vehicles are highly popular, and rightly so. When your service technician arrives at a residence or commercial property to meet with your customer, having a recognizable branded vehicle helps instill trust. Alternatively, from a customer's perspective, a plain white van showing up in your driveway can cause some anxiety.
Your marketing and advertising efforts have worked to generate new business leads, do yourself a favor and let professional fleet wrapping strengthen that customer relationship.
Provides Efficient Advertising
It has been estimated that a single fleet graphic can receive between 30,000 – 70,000 views per day. Multiply that by the number of vehicles in your business fleet, and the number of days that your team is on the road. You could gain exposure to millions of potential customer impressions with relatively minimal spend. Commercial fleet branding can be a cost-effective way to spread brand awareness and even generate new leads in your community.
Protects Underlying Paint
At a certain point, aging vehicles can cost your business more than the price of replacing them. Fortunately for you, fleet wrap services from Houston Sign use 3M Controltac with matching 3M laminate. This means that the paint under our custom fleet wraps in Houston is preserved so that you can maintain a high salvage value for your older vehicles. As a business owner, we don't have to tell you that removing unexpected costs or preserving value can help you hold onto more of your money.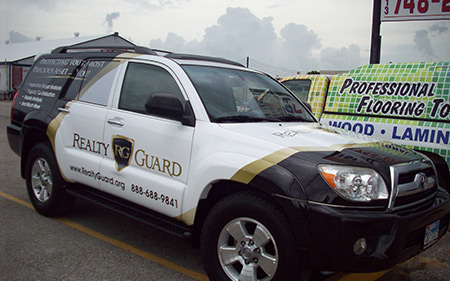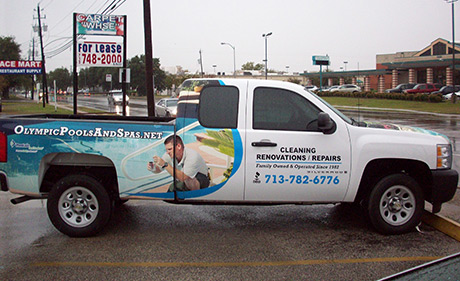 Options for Fleet Wraps in Houston
We have years of experience in designing, printing, and installing commercial fleet graphics and wraps in the Houston area. Many of our customers opt for a full wrap, but this isn't always required. Whether you need a full or partial wrap, or simply just fleet decals, we can get you what you need in a cost-effective manner.
Cut Vinyl Fleet Graphics
Vinyl logos and letters on your business vehicle are an affordable way to outfit your fleet. Our car decals in Houston give your fleet a consistent look that makes for a clean, professional appearance that builds customer trust. You reap the benefits of easy service vehicle identification, clean branding, and improved brand awareness.
Partial Fleet Wraps
Partial fleet wraps are also a great way of branding your fleet while maintaining a budget. Our graphic design team can help your build a unique and attractive look that turns heads while staying consistent with your brand style guidelines. This helps control your costs compared to a full fleet wrap but generates the attention needed to gain new customers.
Full Fleet Wraps
Full fleet wrapping can adhere to the sides, rear, hood, trunk deck, or it can completely envelop the vehicle (meaning the rear windows and roof). Full commercial fleet wrapping services help you promote your message without needing to spend as much as a custom paint job warrants.
Other Types of Vehicle Wraps We Offer
We offer the following options for vehicle wrapping in Houston:
Fleet Wrap Warranty & Pricing
Houston Sign Company uses  3M Controltac with matching 3M laminate for our full vehicle wrapping in Houston. We stand behind this top-tier material and our work with a three-year warranty against material failure. We've been around since 1946, and our staying power gives these warranties even more value for your peace of mind.
We believe that every great fleet branding wrap starts with a wonderful design. Our fleet branding services include 3 hours of graphic design time from our in-house team. Artwork can be completed via email or face to face appointments depending on availability.