Commercial Truck Wrapping in Houston Will Help Promote Your Company
Houston Sign Company offers turnkey, in-house truck wrap designs and installation services with 10+ years of experience. Your service vehicles can create a professional impression with graphics that give them an appealing and uniform look. Full or partial truck wraps, SUV wraps, and fleet graphics will turn your vehicles into mobile advertising units.
Our installation team is an in-house crew that upholds the high standards that Houston Sign expects of its finished truck wrap installations. As for warranty, Houston Sign Company stands behind our work with a 3-year limited warranty on all wraps (ask your account manager for details).
Below are some examples of the vehicle graphic projects that have been completed by Houston Sign Company. Wrapping vehicles for more than 10 years, Houston Sign Company has designed, printed and wrapped some of the following:
Commercial Truck Wraps
Our staff incorporates your truck graphic ideas and brand guidelines to create professional and attention-grabbing company truck wraps. Whether you have a one-off project for your business, or you need to wrap a fleet of landscaping trucks – our team can design, print, and install exactly what you need.
Box Truck Wraps

Promote your business while operating your business. Box truck vinyl wraps can effectively turn your vehicle into a moving billboard. Our expert staff can help design the cab and four box sides of your vehicle to present a seamless piece of brand collateral for your company.
Semi-Truck Wraps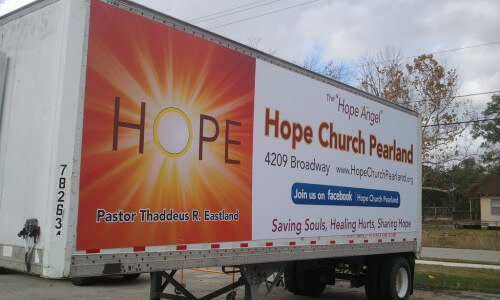 Semi-trucks are expensive enough assets as it is – will you ever get a return on your semi-truck wrap costs?
Historically, businesses have taken several approaches to realize a positive ROI on their semi wraps. If you're a local business that engages in mainly over-the-road shipping, this may not make sense for you. However, don't neglect to factor in where your truck is parked when it's not in use. For semis that sit on your business's property between periods of use, it is doing double-duty as a sign.
Van wraps and graphics turn a delivery vehicle or service truck into a sales machine. We offer over 10 years of professional wrapping services from Design, Production to Installation.
We have standardized on 3M graphics films and laminates to assure the most durable van wrapping possible. As for warranty, Houston Sign Company stands behind our work 100% with a 3-year warranty on all of our wraps (ask your account manager for details).
Food Truck Wraps

With the rising popularity of food trucks in the city, your Houston food truck wrap design is more critical to your success than ever. Our design team knows how to make your vehicle stand out from the competitor parked up the street.
Food truck wrap costs will depend on the length, make and model of your truck. We can provide a more detailed price range once we establish the fundamental details of your ride, so contact us today.
Plumbing Truck Wraps

The digital marketing landscape for plumbers has grown extremely competitive over the past decade. However, some of the traditional approaches still remain the best. Our Houston plumbing truck wraps can provide the tried-and-true branding exposure that your business needs to keep a full pipeline of customers.