If your Houston-based business needs to kick-start sales and drive steady traffic as shut-down orders expire, custom storefront signs should be plan A! After all, foot traffic to your local business is invaluable to your revenues, and storefront signage is a great way to increase sales volume with a fixed asset that you're already paying for!
We can help you implement effective storefront sign ideas on several different forms of media including:
Consider These Types of Storefront Signs in Houston
Our team treats you like a person with meaningful business needs – not a dollar sign. We only recommend solutions that we believe will generate a ROI for your business, and we aim to establish a relationship that can help with all of your future signage needs!
Storefront Banners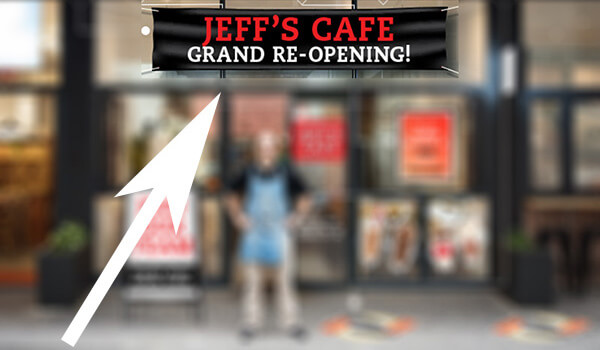 There has been a major push for custom banners in Houston recently. With local businesses competing for a limited number of local dollars, finding a weather-proof way to stand out from your neighbors is critical.
We frequently recommend 13 oz reinforced scrim material for outdoor applications of custom banners in Houston so that your storefront handing signs can survive the elements while still attracting passers-by. We also finish your storefront banners with grommets placed every 24″ and a 1″ hem. Even in heavy winds, your marketing investment is less likely to tear or fly away. We offer printing AND installation if needed, so contact a member of our team today for a quote!
Storefront Window Graphics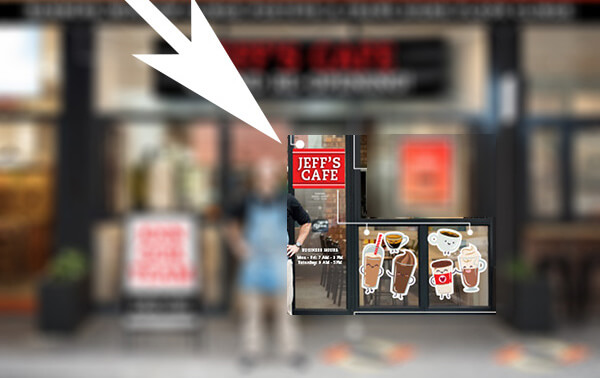 Custom storefront window decals not only improve the long-term positioning of your brand, but they can be used to highlight short-term promotions as well. These window signs are great for bolstering curb-appeal and supporting your current specials – a combination that can help keep your sales charts moving up and to the left.
We offer perforated window decals for your storefronts so that your marketing assets are safe from the elements while still allowing natural light inside for your clientele. We can do standard shapes with custom printing (we offer short runs and fast turnarounds!) or even cut-to-shape window clings for unique elements that can help you stand out.
Storefront Window Signs and Posters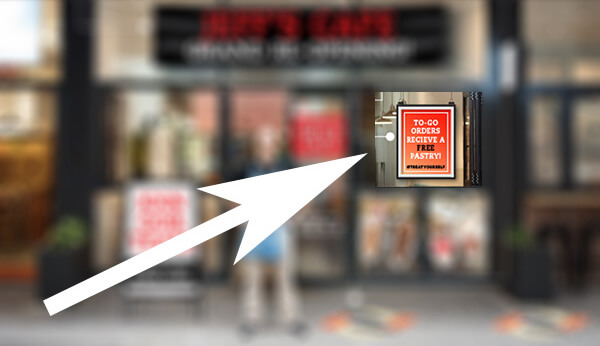 A winning line-up of storefront window signs often includes custom posters showcasing your brand, specials, menu, and more. Our poster printing in Houston can support your needs in most cases. We can provide short runs for unique and short-term posters, and we're happy to work with you and your team on a recurring basis to regularly update your specials and promotions.
In most cases, your storefront posters will be hung inside. We can generally help with printing AND installation depending on your needs. Contact one of our account managers today for help ordering the right storefront graphics for print and installation.
Storefront Floor Decals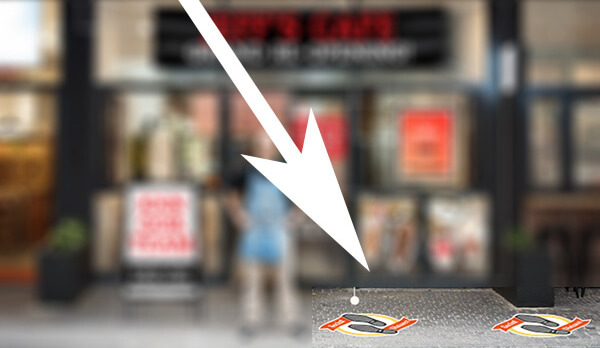 Whether they're footsteps leading into your shop (following social-distancing guidelines, of course), arrows, or branded visuals, you can include custom floor stickers in your arsenal of storefront signs in Houston. Floor decals are generally made of vinyl and can adhere to tile, concrete (for sidewalks), hardwood, and laminate. So, whether you're located in a mall or on a street, your floor graphics can survive and draw potential customers into your business.
Storefront Sandwich Boards and A-Frame Signs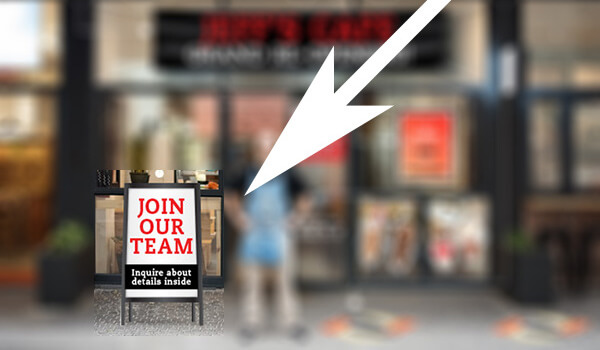 A-frame signs (also known as sandwich boards) are a common staple for local and retail storefront signage. These frames can easily accommodate posters (or sturdier signs) of all color-combinations, messaging, and purpose.
For example, if your company is hiring due to increase demand during re-opening you can use sandwich boards in Houston to assist your hiring efforts. Like posters, window clings, and banners, A-frame signage can also be used for temporary promotions meant to incentivize increased customer traffic.
Open Signs for Storefronts
Some businesses stick to standard open signs, but if you're interested in improving your brand awareness, a custom open sign can help. Many businesses that are reopening due to COVID-19 are also leaning on Houston yard signs and feather banners to show-case their new open policies and attract customers. So, regardless of how you aim to tell the world you're open, our account executives can help you tool-up for the increased levels of demand that you've been waiting for.
Contact Houston Sign with Your Urgent Storefront Signage Needs Today!
Whether you're in the market for sandwich boards, banners, floor decals, posters, window clings, yard signs, feather banners, etc. Houston Sign can produce attractive signage with a speedy turnaround.
Contact an account manager today for a quote on design, printing, and installation, and approach your business re-opening with a bang!