Shop Our Online Store for Real Estate Signs Today!
Residential Realtors, Commercial Realtors and Builders all rely on signs for real estate to promote their offerings. Some of the real estate signs and banners used follow a predictable format, while others are very unique. Houston Sign Company has been producing various real estate signs in Houston for decades.
We have unparalleled experience in real estate sign design, production and installation. Whether you're following the style guide for a franchise, or you're creating a completely custom real estate sign, our team has the experience to exceed your expectations. Best of all, we offer real estate sign management programs to track sign placements, removals and re-locations.
Residential Real Estate Signs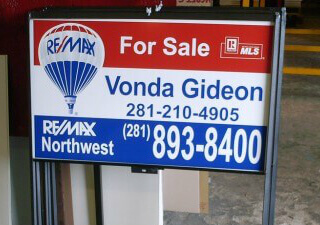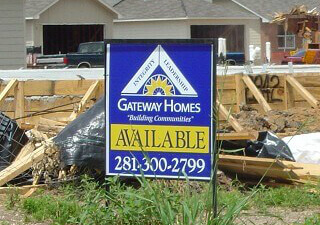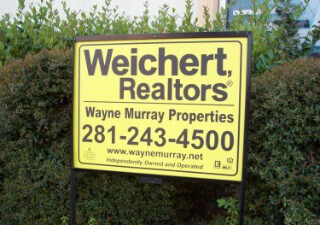 Houston Sign Company can produce real estate signs on a wide variety of materials, depending on your company's specific needs. Not only do we specialize in producing custom real estate signage that is made to order, but also provide all design services for your signs, riders, open house signs, vehicle magnets, and even vehicle wraps.
The average ETA from concept to completion for signage is 2-7 business days.
Residential real estate signage is great for advertising a home for sale. From the metal signs in the yard to open house directional signage.
As a franchisee, we can ensure that your realtor yard signs follow franchise style guidelines. We can also help with custom signage for organizations that don't have design limitations.
Commercial Real Estate Signs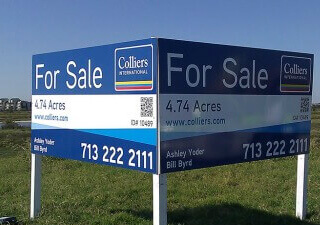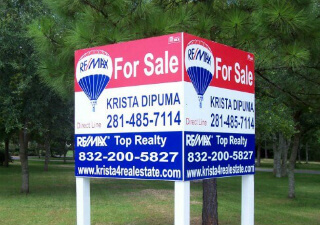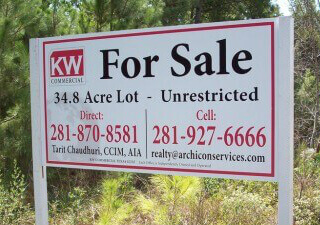 Houston Sign Company can create large real estate signs and banners in Houston for your commercial properties. In addition to producing signs, banners, and custom feather flags, we can provide installation services for commercial real estate signs in the Houston Metropolitan area. Another capability includes printing of window signs and graphics that are perfect for guiding prospects to your available spaces.
The average ETA from concept to completion for signage is 3-10 business days depending on if installation is needed.
Signs are placed on lots/land for sale, commercial properties for sale and spaces for lease in a strip center.
Commercial property signs are a unique gateway into your sales funnel. In most marketing situations, you describe your product or service, then you have to generate opportunities to demonstrate your offering's merit. However, the right commercial real estate signs and posts draw attention to an opportunity that's right in front of your target audience's eyes. The immediacy of its benefits for your realty business make it a sound investment.
Signs for Builders
Builders use a variety of both indoor and outdoor signage. Everything from banners, decals, yard signs, model home signs and directional signage are used in this industry. From initial design to installation of the finished product, Houston Sign Company has you covered!
Please contact us today for more information about the design, printing, and installation of your realtor signage!