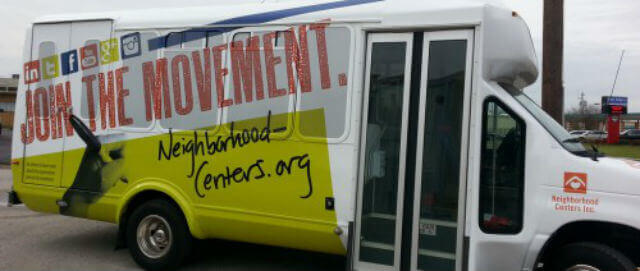 Do you have large empty windows in your office space? Maybe you own multiple company vehicles that could use branded decals or vehicle wraps for advertising. If you've ever considered trying to make use of all that extra space for promoting your business, then today is the perfect time to start!
If you are interested in taking advantage of your window space for advertising, then you should already be considering static cling decals as a cost-effective strategy.
What Is A Static Cling Decal?
Static cling decals are an innovative product which allows you to apply and reapply signs, posters and messages. This sets them apart from traditional adhesive stickers and decals that you may have seen on the backs of trucks and other storefronts.
A static cling decal is like a normal sticker that a business might use on a door or vehicle except it lacks the annoying one-time use adhesive material. Instead static cling window signs use a vinyl based film that has the ability to stick to different materials like glass, plastic or metal without leaving a trace on the surface once removed.
This means that if you stick a decal onto a glass surface and realize that it's not straight, you could peel it off without worrying about leaving a sticky mark or destroying the adhesive surface of the graphic.
How Do Static Cling Vinyl Decals Work?
Contrary to popular belief, static cling vinyl decals don't have anything to do with static electricity. They work on the basis of two different principles called molecular bonding and air pressure.
The science basically goes like this: when the static cling poster or sign is placed on a smooth surface you are basically placing a flat, smooth material on top of another smooth surface, effectively removing the air in between the two. This, in effect, creates a vacuum between the film and the smooth surface you are advertising on.
The vacuum will resist movement or detachment because the air pressure around the room keeps it flat against the surface. You can think of it being like thousands of tiny suction cups sticking to the window you've decided to advertise on.
The other principle, molecular bonding, refers to the natural ability to molecules to attract each other. This is the same method that some animals like geckos use to climb walls without falling off.
How Can You Use Them?

By now, you might be interested in static cling decal material, but you might be wondering how you can use it. We at Houston Signs make custom car decals that you can apply to business vehicles, and retail signs and banners that can be applied to your storefront windows.
Using them is easy. Just place the film on the inside of the window as flat as possible. Be sure to remove any air bubbles that might have been trapped between the surface and the static cling window sign.
It's recommended that you use the inside of the window because strong winds, dust and water can pull the decal off of the window. However static cling decals come with the added benefit of being reusable for future events and festivals. No need to keep buying new static cling posters and decals for every annual event you might have.
Check out our guide for more tips on how to put on a decal for your business.
If you or your business is looking for signage for real estate, political campaign stickers, bumper stickers or even just for advertising your business – our team at Houston Sign can provide you with the right custom-made product.
If you need custom signs in Houston, request a quote with us today.