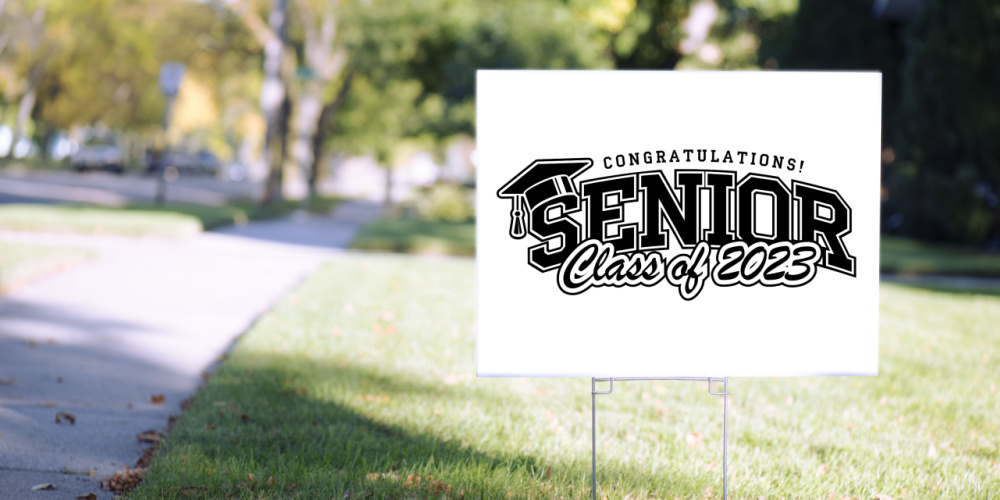 The graduation of a senior class is always a cause for celebration, and you'll no doubt want to proudly tell the world about the achievements of your students or loved ones. For school districts and families alike, a "Class of 2023" sign is perfect for announcing these achievements and honoring the graduates. Here are a few tips for celebrating graduating seniors with aesthetically pleasing yard signs.
Commemorate the Class of 2023 with Graduation Yard Signs
Every graduating class deserves recognition and a proper send-off, and schools can use attractive, custom-designed 2023 graduate signs to add to the graduation excitement. These signs are perfect for placing in front of school buildings. Additionally, booster clubs can sell these signs to families with graduating students as a fundraiser.
Spruce Up Your Graduation Ceremony with Class of 2023 Yard Signs
Attractive signs add a decorative element and create a celebratory atmosphere, so your class of 2023 yard signs are perfect for adding to the festivities during a graduation ceremony. However, they also have a practical use — you can place them outside your auditorium to show parents, grandparents, and other guests exactly where they should go, all while building excitement and anticipation.
Artwork and Display Options for School Districts
When you order 2023 graduation signs, you can customize them with attractive artwork that shows off your school pride. Consider incorporating your logo, school mascot, and colors to make your signs unique.
You'll also find that there are many options for displaying your graduation signs, depending on your intended use. For example, you can choose easels, frames, and wire stakes for signs; for banners, consider grommets to suspend them safely.
Best Materials for Custom Lawn Signs
What are the best materials for graduation yard signs? 2023 graduates may want to keep their custom-designed signs for sentimental reasons, and school districts may wish to reuse outdoor signage (as long as they don't become outdated), so it's important that they're made with durable materials. For long-term usage or storage, Coroplast is an inexpensive option that can last for years.

Tips for Ordering Custom Signs for School Districts
Before you place an order for 2023 graduation signs, review these tips:
Know how you plan to display or use your signs
Determine how many you need and which types
Create or select your design using a template
Choose the best sign font for readability
Add text and images
Place your order in time to receive your signs for graduation
Don't hesitate to ask questions or request help with the design of your graduation yard signs. 2023 graduates deserve the best, and Houston Sign Company is always happy to assist you with placing your order or designing the perfect signs.
Graduation Signs for Friends and Family
Family members will leap at the chance to support your graduate with a custom-made yard sign that proudly announces the accomplishments of their relative. Even close friends will often take part in the festivities by displaying their school spirit with a yard sign. If you're hosting a graduation party for a senior, consider adding banners or lawn letters, both popular party options.
Shop Our Online Store for Custom Class of 2023 Signs
There's plenty of time to order your class of 2023 signs, but graduation will come sooner than you think. So start looking today by checking out our online store and reviewing your customization options. You can use your own design or one of our templates, and whether you want one sign or dozens, we can help with that.
Shop Our Online Store for Graduation Yard Signs Today!
Houston Sign Company is the premier provider of yard signs, banners, and more. Don't forget to check out our interior signage as well, which goes perfectly with our yard signs for graduates. We're excited to work with school districts, booster clubs, parent organizations, and families to make custom signs to celebrate the class of 2023.
Contact us to learn more about custom school signage for graduations or any other occasion.