Safety signage is crucial on a construction site. According to statistics from the US Department of Labor, 991 (or 21.1% of worker fatalities in 2016) construction workers are injured each year. Experts say that many of these injuries could have been prevented if building site health and safety signs were more formatted and placed more prominently for workers.
To this end, the Occupational Safety and Health Administration (OSHA) partnered with the American National Standards Institute (ANSI) to create a list of signage regulations and protocols to be used on construction site signs and worksite signs nationwide.
Looking to order safety banners or on-site promotional signs for your worksite during construction? Check out our banner options today!
Construction Site Banners
Here's an overview of some of the basic construction site health and safety signs, and how they should be displayed.
OSHA Construction Site Signage Requirements
The regulatory OSHA safety signs and symbols are detailed specifically through ANSI protocols, which dictate every component of construction site safety signs. These components include:
Overall size
Colors (highly-visible colors such as yellow, orange and red)
Crucial signal words (such as "Warning," "Danger" and "Stop")
Letter font and size
Proper placement for signs and labels
Caution, Warning and Danger Signs
According to OSHA/ANSI regulations, there are three risk-severity classifications for building construction signs. These are:
Caution signs:These warn against unsafe practices that could cause minor/moderate injuries. They feature the word "Caution" in black letters on a yellow background, along with a safety alert symbol at the left.
Warning signs:These indicate a threat that can lead to more serious injuries or death. They feature the word "Warning" printed in black letters on an orange background, along with a safety alert triangle at the left.
Danger signs:These are used to alert workers to highly-dangerous risks that can result in serious injury and death. They show the word "Danger" printed in white letters on a red background, flanked by an exclamation point inside a triangle.
Safety Signs
Building site safety signs don't alert workers to risks; rather, they identify areas or equipment, point out directions, and convey important messages and regulations. Here are five types of safety signs:
Directional and admittance signs: These point the way to certain areas, identify exits and entrances, and indicate whether admittance is allowed.
General safety signs:These identify areas where people can get help — such as "Eye Wash Station" or "Employee Clinic."
Fire safety signs:These include signage for fire drill stations, fire exits, and fire extinguishers.
Non-Hazard signs:These give directional information (such as "Supervisor's Office" or "Janitor's Closet").
Notice signs:These give instructions or convey general information — such as "No Smoking."
Where to Place Building Site Signs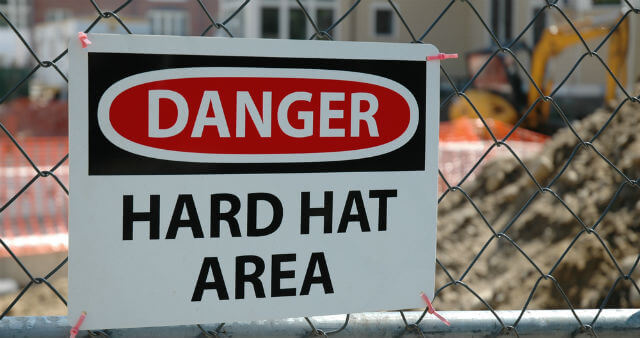 Safety Instruction Signs:These must be placed wherever they can offer safety advice and extra protection to workers.
Caution/Warning Signs:Building site warning signs must be placed wherever it's necessary to warn against unsafe practices or potential hazards.
Danger Signs:These must be placed wherever special precautions must be taken to avoid immediate hazards and dangers.
Also, workers must be able to see "Danger" and "Warning" signs from five feet away. Likewise, the signs themselves must not impose a physical or visual obstacle.
Where to Find Quality Construction Site Signage
If you're looking for high-quality building site signs, be sure to visit the Houston Sign Company website, where you'll find the best selection of custom signage in Houston, Texas.
In addition to commercial-grade building safety signs, Houston Sign Company features yard signs and banners, vehicle wraps and car stickers, office wall signs, real estate signs, trade show signs, and virtually every other type of sign or banner for your home or business. In addition, Houston Sign Company offers a wide range of poster printing, vinyl printing, wallpaper printing and customized sign printing services for the Houston area.
For quality signage at competitive prices, visit Houston Sign Company to get a free quote today. You'll not only get a highly professional product; you'll also get expert advice on the right type of signage for your business or project.
Whether you're looking for business signs, construction site warning signs, or a trade show display for your next event, you'll find it at Houston Sign Company.