Custom feather flags with your business branding on them are a great way to attract attention to your storefront or property. Feather banners are for indoor and outdoor promotion and can be used at different distances from your store to achieve the desired effect.
What Is a Feather Sign?
Feather signs are vertically-aligned polyester or nylon signs and can be used as branding, informational, or directional signage depending on your needs. Feather signs are also frequently referred to as feather flags, feather banners, flag banners, beach-wings, and teardrop flags.
Common Applications of Feather Flag Banners in Houston
Feather flag signs are mostly used for promotional purposes and can be found both indoors and outdoors. Some common applications include the following:
Branded feather flags for business advertising and promotion

Retailers
Grand openings
Tent sales
Civic fairs
Car dealerships
Heavy equipment dealerships
Fitness centers and gyms
Fast-food restaurants
Conferences and expos

Team feather flags (for all sports)
Feather flags for real estate (commercial and residential)
Open house feather flags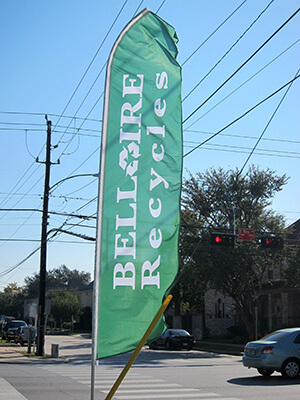 Retail Store Feather Flags
One of the most common uses for advertising feather flags is for retail store grand openings or special promotions. If you have street exposure as a retailer, you can use these outdoor standing flags to attract passers-by. Promotional flag banners are typically used in groups of three or four to really grab attention and communicate your message. Custom now open flags are especially critical during recent times when businesses have been closed or restricted for the health of our Houston community.
If you only have indoor exposure (such as a retail store in a mall), you can still use business feather flags with a different base to stand out from your nearby competition. Browse our website for more details on our retail store signs.
Restaurant Feather Flags
If your business has been affected by a shut-down order, you will be in search of "Now Open" or grand re-opening feather flags to let your customer-base and passers-by know that you are back in business. Use a custom feather banner in Houston, TX to give you a competitive edge, and re-open with a bang!
Real Estate Feather Flags
Custom flag banners for real estate agents are frequently used to promote open houses or advertise that homes within a new community are available for purchase. In this case, outdoor feather flags for realty use stakes that help stabilize the sign in the ground. This prevents the teardrop flag from tipping over or blowing away during adverse weather conditions.
Trade Show Feather Flags
In an open event space, it's easy to get lost in the crowd. Whether you're recruiting or trying to sell to the attending audience, custom feather signs can help build brand awareness and help your trade show display in Houston stand out.
Continue browsing our site today for more information about company-branded swag and banners in Houston today!
Base Options for Feather Flag Signs
Custom feather banners are frequently used for indoor and outdoor promotion, and you'll need to correct stand for your application.
Ground stakes (or ground spikes) are highly recommended for outdoor use if you have access to soil. Stakes help your signs stay upright and effective during high-wind conditions.
Metal X-Bases are an effective solution for indoor and outdoor flag banner signs. The air is typically still, and these lightweight stands are enough to keep your signs standing while accommodating easy setup and transportation.
Tire Mount bases are an outdoor option that can be used in combination with your vehicle. Due to their design, they can withstand winds – making them a good solution for outdoor advertising when your business includes a mobile component.
Contact Us for Custom Feather Flags Today!
As one of the leading sign companies in Houston, we offer signage solutions for almost any need you may have. For more information about feather flag prices, or to place an order for your business flag banners – contact us today!