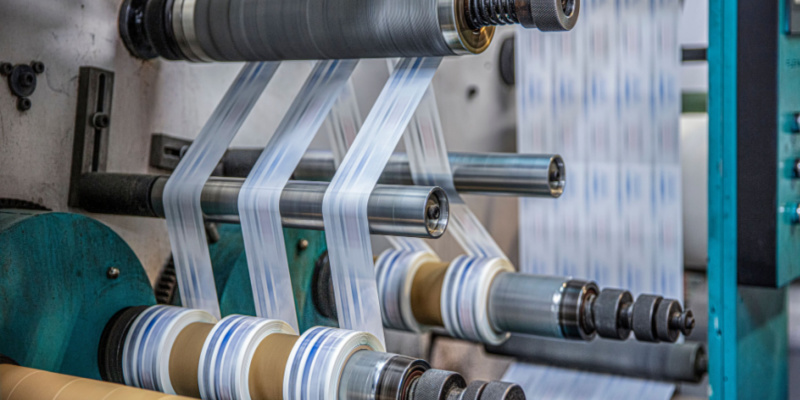 Heavy equipment decals are the purpose-built labels and signs that are found all over modern equipment. While many might take them for granted, a lot goes into ensuring that heavy equipment decals are practical, durable, and long-lasting.
What Are Heavy Equipment Decals?
Heavy equipment decals can be found on equipment of all kinds and can serve a number of distinct purposes. Safety, workflows, and branding can all be handled effectively with custom-made decals.
These aren't just stickers. They're made with different materials that can stand up to the sun, the weather, and rough workplace conditions. In addition, equipment labels are built to last so that manufacturing companies can know that the information they're trying to communicate is clear and legible without the need for frequent reapplication.
How Custom Equipment Decals Benefit the Construction Industry
There are plenty of ways to achieve the same purpose that any custom equipment decals handle, but they all bring additional constraints and downsides. Custom equipment decals are purpose-built for construction applications, making them the perfect choice in those situations.
Modern heavy equipment can be made to operate indoors, outdoors, or either as needed. However, when it comes to working outdoors, you need decals that stand up to the elements.
Over the years, or even just in a few weeks, generic stickers and labels will start to fade, come unattached, or wear off. That's something you can't let happen on your job site.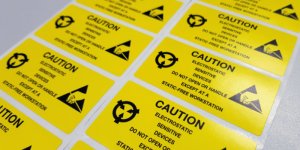 Custom decals for heavy equipment stand up to rain, sleet, and snow. They also resist fading under sunlight, one of the most important factors to consider when developing any outdoor graphics, from signage to labels. Most importantly, they can stay in good shape despite the regular wear that dirty and difficult working conditions can create.
Because these decals are built to last, you don't have to worry about reapplying them constantly. However, if you're using generic stickers or simply painting information on equipment, you'll find yourself doing it again and again.
Those solutions wear away quickly, meaning important instructions and safety information might not be there when they matter most. So instead, you can count on purpose-built decals for equipment to deliver reliable and lasting performance.
The Most Common Types of Equipment Labels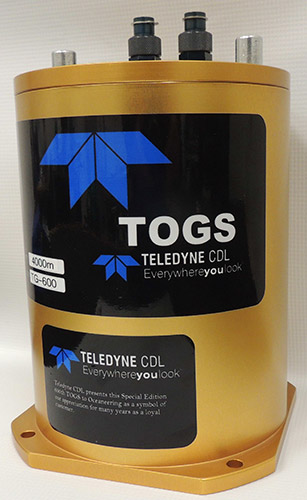 There are many different reasons why any construction company might need reliable equipment labels. However, the chances are that most pieces of equipment already have multiple decals indicating a variety of important information.
Learn the difference between labels, decals, and stickers.
Asset tags are among the most common uses for heavy equipment decals. Having a piece of equipment's serial number or even a convenient barcode makes tracking and managing that equipment so much easier.
You'll never have to worry about confusing multiple pieces of equipment and will be able to manage maintenance and repair schedules more effectively.
Safety is of the highest importance on any job site, and maintaining proper safety labels is vital to achieving it consistently. In addition, you need your safety labels to stay identifiable and legible after plenty of rough treatment, so heavy equipment operator decals are the way to go.
Pinch points, high voltage, high temperatures, and crush hazards can all be indicated effectively and reliably with heavy equipment warning decals.
Equipment labels can also be used as an effective marketing tool. For example, your company name and logo can be made into a decal and applied to equipment to spread the word about your services. Using custom-made equipment decals ensures that this branding stays clear and legible no matter what working conditions it has to endure.
The Best Materials for Custom Equipment Decals
Custom equipment labels come in a wide variety of different materials. The unique applications and purposes for which these decals are commissioned each have their own requirements—understanding the conditions that your decals will have to endure plays a big part in finding the suitable material to use.
Most decals are made out of one of several different types of durable plastics. For example, polycarbonate is great for many uses. Not only is it durable and UV-resistant, but it's also an excellent medium for printing. In addition, you can achieve excellent clarity and color, making it great for featuring your company's brand on equipment.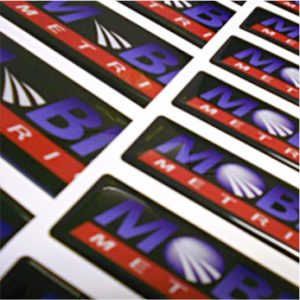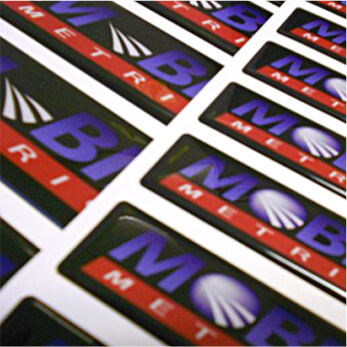 Polyester decals are strong and solvent-resistant. They hold up exceptionally well against aging in challenging conditions, especially against humidity. Polypropylene is another effective solution that can provide a lower-cost solution while still maintaining durability.
For the most important equipment safety decals, aluminum is often the best choice. These decals take durability and resistance to the next level, with most examples staying in excellent condition for years and years.
An aluminum decal lets you set it and forget it without worrying about the weather, water, fading, or even most physical damage.
Vinyl decals are some of the most widely used in the industry due to their excellent fade and wear resistance. The material is also incredibly flexible, making it easy to apply to any non-uniform or curved surfaces.
Each of these materials is also available in various finishes that can further adapt to specific applications. Working with a trusted decal provider ensures that your heavy equipment gets the perfect solution for your decal needs.
Houston Sign Is Your Trusted Heavy-Duty Decal Provider
Are you in need of reliable decals for your heavy equipment? Houston Sign has been providing decals and other products since 1946, and we've developed decals that can stand up to your working conditions. So when you need custom decals that are genuinely built to last, just reach out to our sign company in Texas. We also offer property management signs, custom printed banners, plastic yard signs, custom vehicle decals, and laser engraving in Houston.
Contact us today to get started.