As people head indoors to avoid colder weather, COVID-19 cases continue to rise. Black Friday and Christmas are approaching – meaning that it's prime time for your business to generate seasonal revenue. Will Coronavirus prevent you from making sales at such a critical time? Implementing plastic dividers for your business in Houston is one protective measure you can take.
As a small business that has been serving other Houston businesses since 1946, we recognize the dangers of COVID-19 on your business. We are delivering competitively priced business signage and plexiglass dividers to our neighbors in an attempt to soften the blow of the virus.
Social Distancing Dividers for Businesses in Houston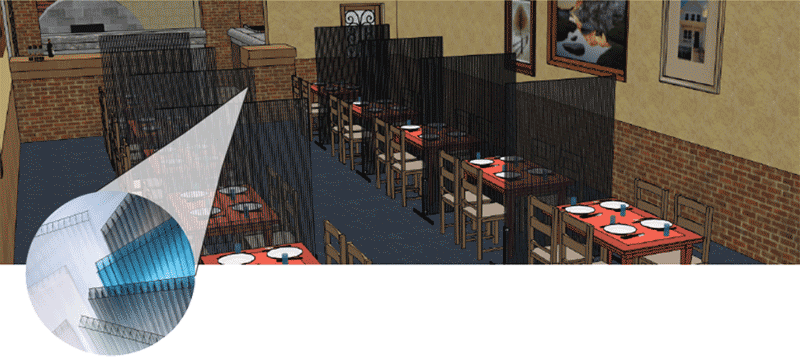 Operating your business doesn't have to be dangerous if you implement appropriate social distancing signs and plastic partitions in your office or storefront. Plexiglas dividers can help enhance your current mix of storefront signage and office signs in Houston.
Clearview Partitions from Houston Sign
Clearview Partitions are designed to aid in social distancing within public spaces. These transparent systems will provide your customers with the confidence to return to their active lifestyle at places such as the gym, restaurant, office, and retail locations. The applications are practically endless. These partitions are simple to assemble, cleanable, functional and easy to store.

More About Our Plexiglass Dividers for Business Social Distancing
These clear plastic partitions for businesses will help give your customers peace of mind while shopping at your store or using your services. Some of the features and benefits of these partitions include:
Lightweight
Transparent
Simple assembly
Easy to move
Durable
Easy to clean
Functional
We offer several weights and thicknesses depending on the needs of your business.
| | | |
| --- | --- | --- |
| Partition Size | Weight | Thickness |
| 4′ x 6′ | 20 lbs. | 16mm |
| 4′ x 8′ | 30 lbs. | 16mm |
Pricing for Our COVID-19 Plastic Barriers
The pricing table below breaks down the unit cost for your plastic divider order depending on the volume and dimension you need.
| | | | |
| --- | --- | --- | --- |
| Partition Size | 10 | 25 | 50+ |
| 4′ x 6′ | $307.39 | $246.54 | $221.16 |
| 4′ x 8′ | $353.39 | $353.39 | $265.16 |
Browse Houston Sign's Clearview Partitions catalog for more information on our clear plastic barriers that could help slow COVID-19 transmission.
Clearview Partititions Catalog
Contact Houston Sign for All Your Business Signage and Barrier Needs
A global pandemic is no easy obstacle for your business to navigate. Effectively promoting yourself to the community is more important than ever. In addition to plexiglass barriers for business, we offer quality wall wraps and graphics, banners, feather flags, and any type of business signage that will attract passers-by.
Speak to one of our account managers today to discuss your signage needs during the COVID-19 pandemic, and we'll help you create a comprehensive promotional attack plan.