Acrylic Business Signs Solidify Your Professionalism
Acrylic signs can be used on the exterior or interior of your business space to enhance your brand's appeal. The look and feel of clear acrylic signs are unmatched in the signage world, as it exudes professionalism and can work psychological wonders on visitors.
Applications of Custom-Printed Acrylic Signs
Because of their durability and eye-catching characteristics, small and large acrylic business signs can be used for a wide range of applications.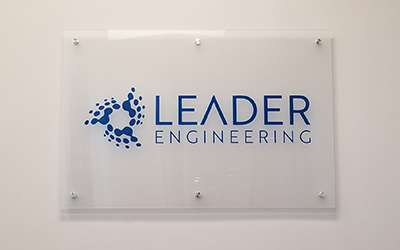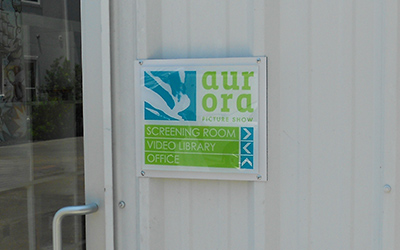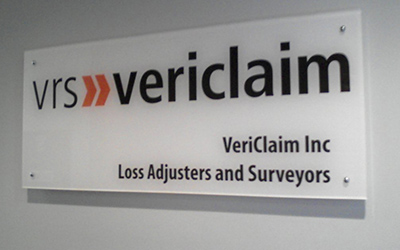 To mount your acrylic signs, you can use wall clamps or spacers.
Spacers are popular for large acrylic business signs. Depending on the weight of your sign, you may only need a spacer in each of the four corners of a rectangular piece of acrylic.
Wall Clamps are a more common option for placards and room labels within a corporate setting. These offer some separation from the underlying wall while adding a black or brushed stainless steel highlight (the material is typically aluminum) to your sign.
What Are Acrylic Signs?
Acrylic signs are a colorless and transparent type of polymer. Tints can be added to acrylic sheets during production, and frosted finishes can be applied during customization. Because of the durable but glass-like properties of acrylic, it is frequently used to create lobby signs, building signs, and plaques.
Depending on your designs, Houston Sign can print directly onto acrylic sheets during the acrylic sign printing process. Alternatively, we can overlay vinyl coating or letters if you are interested in acrylic wall signs that add attractive dimensional properties to your signage.
Our on-site laser cutting capabilities allow us to completely customize your acrylic office signs. These signs can be a great option for an elegant professional setting. Showcase your brand with acrylic signage today!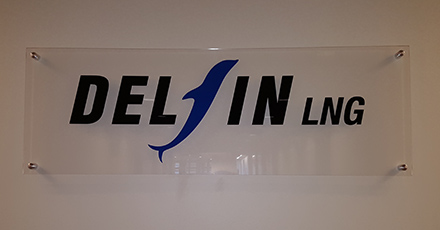 How Acrylic Sign Printing Works
Because Acrylic is transparent, you can print on the front or back of the material to take advantage of different effects (similar to perforated window decals). Most of our acrylic is 3mm (or about 1/8th inch) thick, but contact us about a custom thickness if you have a unique requirement.
Standard printing means that your brand graphics will be applied to the front of the acrylic sign board. This makes sense for raised acrylic signage letters that mainly use the material to provide a rigid background. You don't get to experience the glossy look of the acrylic when you opt for standard printing.
Second surface printing on acrylic sign board is used when you want to take advantage of the glass-like shiny qualities of acrylic. Most customers opt for this second surface method, as it is great for showing off acrylic wall plaques, and acrylic signs with standoffs for mounting.
Custom-Cut Acrylic Signs
Because of our laser cutting abilities, we offer custom-cut shapes. Some of our most common types of cuts include contour cuts, halo cuts, or rectangular acrylic sheets with a printed logo.
Contour Cuts are fit exactly to your graphics with no additional border. Acrylic letters and wall-mounted logos are the most common graphics that leverage a contoured cut.
Halo Cuts are very similar to contouring, but there is an additional border around your graphics. This border provides a little extra sheen that can almost look like a halo around your brand graphics in the right lighting.
Rectangular office signs on acrylic simply leverage the clear, shiny look of acrylic with a second surface brand graphic that is cut to shape. This is great for acrylic wall plaques and lobby signs.
Trust Houston Sign with Your Aluminum and Metal Signage Needs
We've served the Houston community for 75 years, and during that time we have learned how to deliver quality signage at a competitive price. An account manager with Houston Sign will help you organize an order of custom acrylic signage for your business. If you're interested in a more standard solution, visit our retail shop to buy signs online without needing the pick up the phone!
Contact us online today to see how we can make your lobby shine with custom acrylic office signs!