Aluminum Signage Elevates Your Customers' Experience
Aluminum signs can be used for most indoor and outdoor applications that support your business goals. From building signage to traffic flow and direction signage to lobby signs, custom aluminum signage can guide and enhance your customer experience every step of the way.
Applications of Aluminum Signs
Due to their sturdy construction and visual appeal, custom aluminum signs have a wide range of applications that may include the following.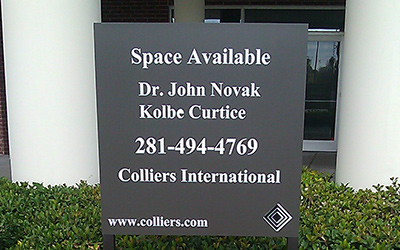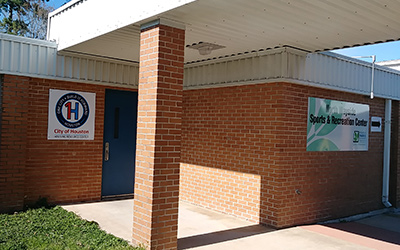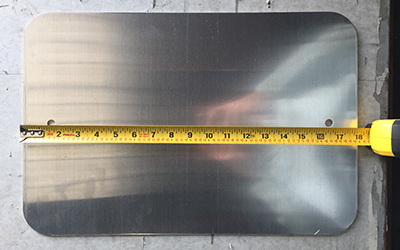 If you need custom metal signs in Houston, contact Houston Sign today to see how we can support your business needs. Some popular sizes of our metal signage include:
12" x 12"
18" x 24"
2' x 4'
4' x 4'
4' x 8'
However, we don't limit your metal signage to these figures. Simply ask our team what is possible, and we'll let you know if your unique specs can be met.
What Are Aluminum Signs?
Aluminum signs are a sturdy type of signage that consist of two aluminum sheets joined by a polyethylene core. This provides the thickness required for most indoor and outdoor applications. These metal signs for business can come with a matte, reflective, or brushed finish depending on their purpose and your required specifications.
Where to Get Metal Signs Made
Whether you need indoor or outdoor metals signs, Houston Sign carries the materials and commercial printers required to produce your signage. We offer competitive aluminum sign pricing and production turnaround for East Texas cities including Houston, Austin, San Antonio, Galveston, Corpus Christi, Beaumont, Port Arthur, Victoria, College Station, and everything in between.
Benefits of Indoor and Outdoor Aluminum Signs
The main benefits of our aluminum plate signage are its durability and long-lasting nature. Not all signs are able to withstand the range of Houston's weather, but aluminum performs especially well.
Durable
Our aluminum business signs can be either solid aluminum or two thin aluminum sheets with a polyethylene (PET) interior. This composition provides solid, durable aluminum metal signs that are resistant to bends, breaks, and distortion.
High-Quality Production
Our custom-printed aluminum signs pair reliable aluminum sheeting with some of the latest commercial printing technology available. Whether you need single-color or four-color custom aluminum signs, we can produce vibrant, scratch-resistant signage that can withstand the unrelenting Houston weather.
Trust Houston Sign with Your Aluminum and Metal Signage Needs
After serving the Houston community for 75 years, we know how to deliver quality products at a competitive price. An account manager at Houston Sign can help put together an order of custom aluminum signs for your business. If you aren't in need of a custom solution, browse our retail shop to buy signs online today without having the pick up the phone!
Contact us online today to discover how we can elevate your business with quality metal signs!