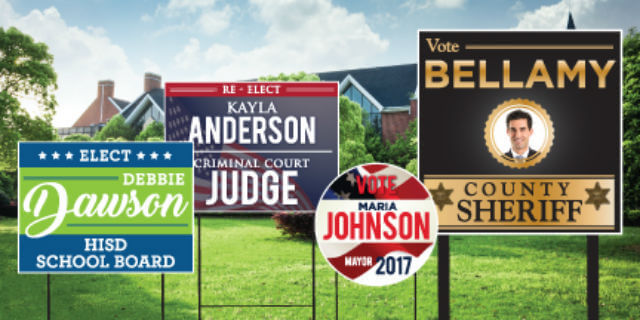 The rules of political yard signs vary from state to state. In Texas, campaign signs cannot go up prior to 90 days before the election, and all signs must be down within 10 days after the election.
Just because you must wait until 90 days before an election doesn't mean you can't have your campaign signs ready to go. With our knowledge of corrugated plastic yard letters and custom signage in Houston, the Houston Sign team can help create your signage before it's time to distribute.
Campaign teams are frequently asking – where can I put political signs? Learn all about the essential political yard signs rules so you'll be prepared when the time is right.
Posting Political Signs on Public Property
Placing campaign signs on public property is illegal. The Texas DOT further explains that it is illegal to place a political sign anywhere in the right-of-way or on any objects within the right of way, such as telephone poles, trees or traffic signs.
Placing campaign signs on public property in Texas is also illegal. Not only are you not allowed to place political signs on public property, but campaign signs on school property are also illegal, whether the school is public, private or a charter. School employees and the school grounds are meant to remain neutral and should not advocate for one candidate over another.
Posting Campaign Signs on Private Property
Before placing any campaign signs on private property, get the owner's permission first. If the private property where you want to place a sign is within a subdivision or governed by an owners' association, check with the association as they oftentimes have additional rules for campaign signs.
Any sign on private property that can be seen from the roadway must include specific wording, so make sure you're compliant.
Houston Sign can help you create your custom election signs.
Political Signs at Polling Places
While the general thought may be that placing campaign signs near a polling place would help turn late undecideds into voters, the law prohibits this. Texas code states that there shouldn't be any political signs at polling places—specifically within 100 feet of a polling location—when voting is taking place. Because of the many places allowing early voting, it would be safe to avoid placing political signs at polling places leading up to voting as well.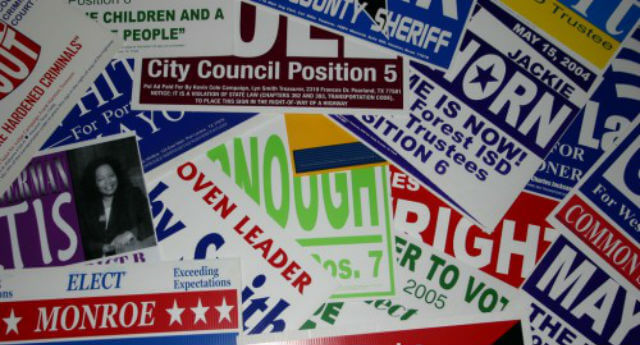 Is It Illegal to Take Down Campaign Signs?
Rest assured that if you've placed a campaign sign within the right of way or if it's posing a traffic hazard, Texas DOT will kindly remove it for you without notice and may even charge the campaign for the removal.
Many of the laws pertaining to political signs vary from state to state or city/county to the next. One thing is clear, though. Removing signs on your own is illegal as it is viewed as hampering someone else's first amendment rights. If you do find a campaign sign in an illegal spot, don't remove it yourself as removing campaign signs is illegal. Instead, notify your local police of the infraction and let them handle it.
Contact Houston sign today to request a quote on your custom campaign sign and confidently place your Houston yard signs where you know they're allowed.