Announce your Political Campaign with Signs
Campaign Signs are a staple of awareness for elections and political movements. If you are running a campaign for School Board, City Council, State Office or a Political Action Committee, political signs are the best way to get your message to voters. Houston Sign Company is your campaign sign headquarters. Coroplast political signs can be printed for next day delivery in many cases.
Election Yard Sign Sizes and Bulk Orders
We offer the following sizes for single-sided and double-sided wholesale campaign signs:
Whether you're interested in yard signs in bulk or short runs, we can serve your needs. Contact us for a quote on wholesale political signs today with FAST turnaround.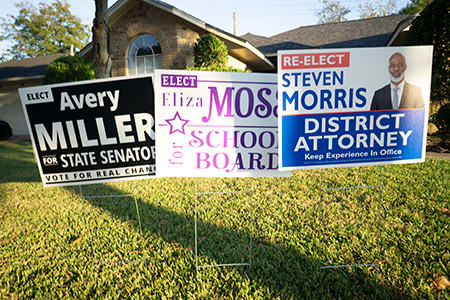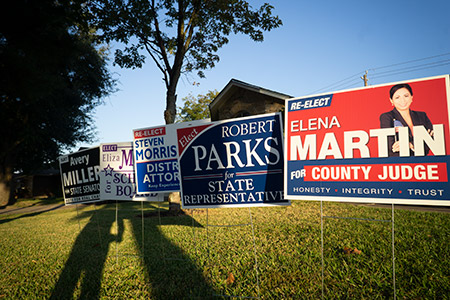 Campaign Signs
Every political campaign relies on great campaign signs to rally the base. Houston Sign Company has printed election signs for political races at every level. Campaign signs are available in full color and can range in size from 12″x18″ to 48″ x 96″. Next day service is available when needed to assure you have campaign signs at your upcoming political rally.
Where to Buy Political Signs
Shopping around for wholesale campaign signs can be challenging. You want to keep your campaign style consistent, but fitting a purpose-filled message on a standard political sign size is tough. The expert designers and election yard sign manufacturers at Houston Sign have the creative chops to design a great sign, while also extending competitive pricing.
What Are Political Signs Made of?
Most political yard signs are made of coroplast material, similar to standard yard signs in Houston. These signs usually maintain their appearance for 3-6 months. This timeline perfectly aligns with your push for public awareness because you only need signs that last this long. There are longer-lasting materials available upon request, but most election campaign signs aren't reused, so this will needlessly drive costs up.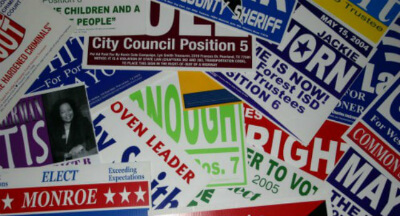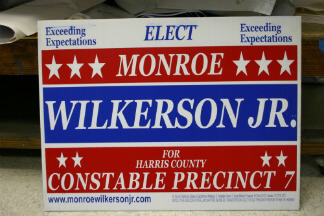 How Much Do Election Signs Cost
There is a very wide price range for political signs in the Houston area. We offer volume discounts and rush options for campaign yard signs that need to be delivered quickly. These dimensions will have a significant impact on the pricing for your signs. Contact us today for a tailored quote on your upcoming political signs and banners in Houston.
Custom Election Signs in Houston for Your Next Campaign
Houston Sign Company is the election signs headquarters for your campaign sign needs. From design to print we produce coroplast campaign signs from 12″ x 18″ up to 48″ x 96″. Our election signs are digitally printed so you can send your message in full color. Learn more about our in-house sign printing capabilities.
Want to be sure that Houston Sign can deliver? Check out the political signs that we've created for clients in the past by viewing our full gallery below.