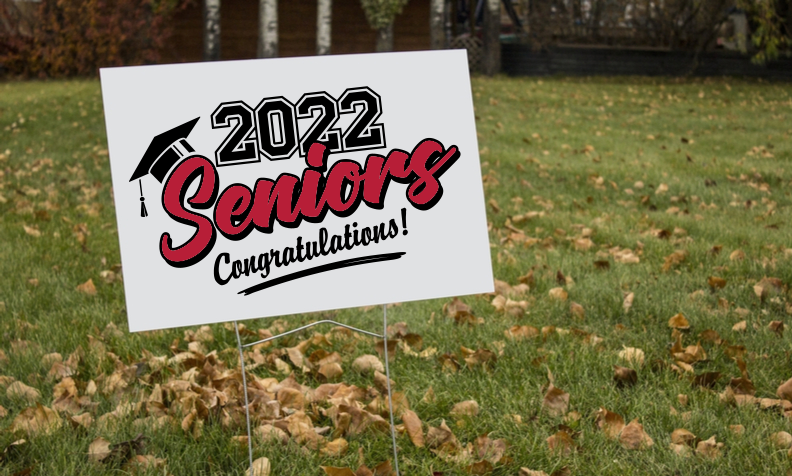 A graduation sign is important because it will help commemorate a major life event for a graduate and their family. It will also serve as a reminder of the achievement for years to come, especially if it is placed prominently in your front yard. Not to mention, they're easy to set up and maintain, and they don't require any heavy lifting or expensive installation costs. Let's explore some top graduation yard sign ideas that are sure to make your party go off with a bang!
The Complete Guide to Graduation Lawn Signs
Graduation is a huge milestone in a student's life. It signifies the end of one chapter and the beginning of another. It is an occasion that should be celebrated with all the stunning decorations that it deserves. So, if you're looking for some great graduation party signage, Houston Sign has you covered!
Keep reading to learn how to create the perfect graduation-ready yard sign design for your celebration.
Artwork Options for Your Custom Graduation Sign
Custom graduation yard signs are an excellent way to show off your style and give your graduate a fun memory to keep forever. One of the greatest features of these custom signs is that you can choose from various artwork options.
Artwork for custom graduation signs can be done in any medium, including plastic, vinyl, fabric, foam board, or even wood. There are so many options available to you when designing your sign. You could get creative with it and design your own artwork or use pre-selected vinyl lettering that spells out your name and school. Or maybe you want to go with something more traditional like the classic graduation cap clipart. Whatever option you choose for your custom graduation sign, make sure it will fit perfectly into the overall design scheme of your party!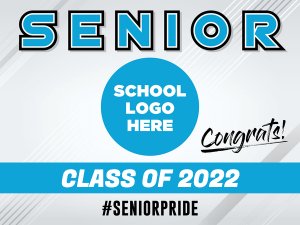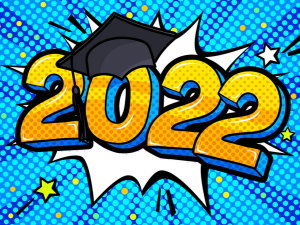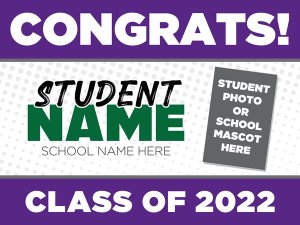 Choosing the Best Material for Your Custom Yard Sign
Choosing the best material for your custom yard sign is essential. There are many materials to choose from, so it can be challenging to know which one will work best for you.
One of the main benefits of choosing a corrugated plastic yard sign is that it is lightweight and durable. This means that it won't get blown over by strong winds and will last for a long time. It also has a low cost, so you don't have to spend too much money on your signage.
Another great option is a vinyl banner, which has an upscale look and offers protection from the elements. It's an inexpensive option, and many people prefer them because they last for years and look better displayed at heights.
Popular Choices for Class of 2022 Yard Signs
Use the custom signs below to connect with friends and family members who are celebrating this special moment with you!
1. Graduation Yard Letters
Graduation lawn letters are a fun and memorable way to enhance any celebration. The best part is that these letters can be reused for any future graduates in your family.
2. Custom Graduation Yard Banners
Custom graduation banners provide a way to celebrate the success of grads. These banners are customized with the graduate's name, school, major, and graduation date. They can also be used as a decoration or backdrop at post-graduation parties.
3. Coroplast Graduation Lawn Signs
The best part about coroplast signs is that they are inexpensive and quick to make. A coroplast sign can be any size, but most people prefer them to be at least two feet wide so that it can be seen from afar.
4. Graduation Cap Yard Signs
Don't want to display your graduate's personal information outdoors? Keep it short and sweet with a simple graduation cap graphic! These also make great graduation party decorations.
5. Graduation Party Signs
Signs can be placed anywhere around your outdoor party, and they don't take up too much space. Banners can be hung from your front porch or placed on a table for everyone to see.
SHOP OUR ONLINE STORE FOR GRADUATION YARD SIGNS TODAY!

Tips For Making Your Personalized Graduation Yard Sign
The process of making a personalized outdoor yard sign can be broken down into three steps:
Step 1: Choose a Design – There are many different designs to choose from when designing your outdoor yard sign. You can find designs that are simple, or you can find designs that have more intricate details. Many sign companies offer pre-made templates that expedite the design process. There is no right or wrong design to choose from, but you should consider how much time and money you want to invest in your sign before picking one.
Step 2: Add Text – Once you have chosen a design, it is time to add text to your sign. For example, do you want to include a personalized message wishing them luck in their future endeavors? Or simply "Class of 2022"? Some people will also have jokes and messages from friends and family members to make them more memorable for those who come by to see them. Regardless, make sure you use a font that is easy to read—your custom sign shop should be able to help you with this.
Step 3: Order in Time for Graduation – Arguably, the most crucial detail to get right is the timeframe. The last thing you want to happen is for your beautiful sign to go to waste because it arrived after the graduation party. So, be sure to place your order far out enough that everyone can enjoy it in the days leading up to the big event!
Celebrate This Special Moment with Houston Sign's Graduation Lawn Signs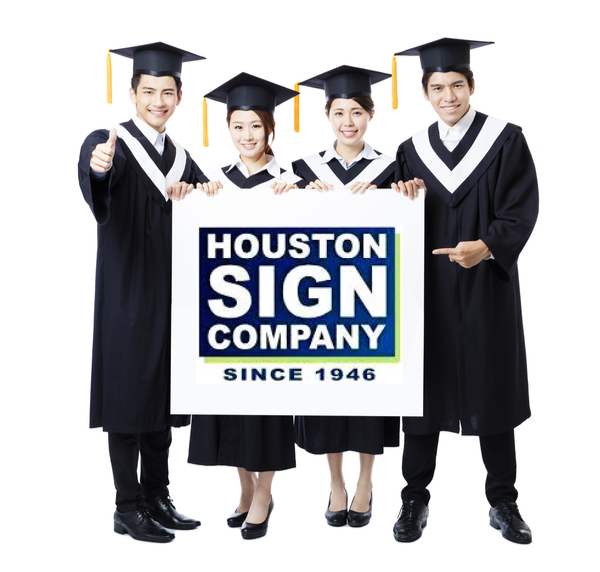 Whether you need preschool, high school, or college graduation yard signs, Houston Sign has you covered. We offer a wide variety of sign types, sizes, and materials so we can customize the perfect solution for you! With our Class of 2022 signs, you can make your favorite graduate more visible and memorable.
Contact us today for more information about our high school graduation yard signs.