The real estate game relies heavily on professionalism and memorable branding. Obviously, providing solutions to your clients' home buying needs is one major aspect, but selling is arguably more competitive.
Having the right real estate signage is a long term play that can pay dividends. A cracked, tarnished, or faded real estate sign can be a quick way to subliminally signal to the community that your brand is second-rate. Choosing the right real estate sign material can help avoid this brand degradation while saving you money on realtor signage in the long term. Houston Sign has been a trusted provider of real estate signs in Houston for years, so we have a few insights on the matter.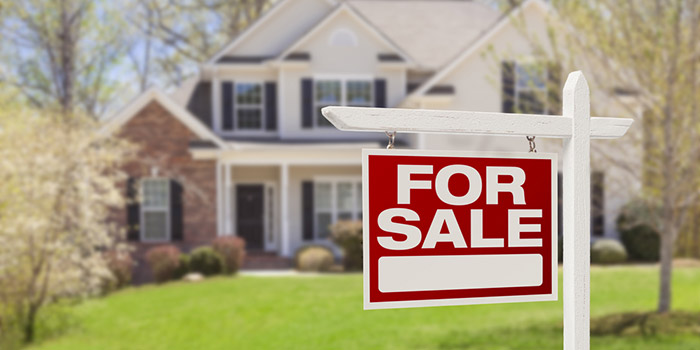 So, how are real estate signs made to serve the unique purposes of the realty services you provide?
How Are Real Estate Signs Installed?
Before we hop into the available materials, how are realty signs usually displayed?
We typically see signs in a hanging configuration or inside of metal frames.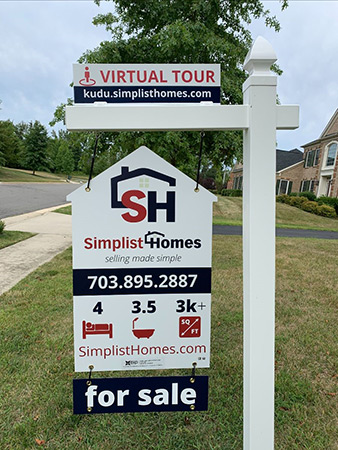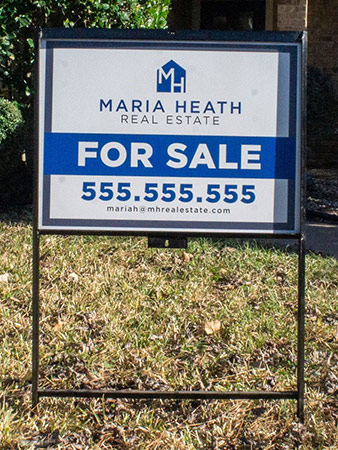 What Are Real Estate Signs Made Of?
The real estate signage material that you choose for your indoor and outdoor signs may differ depending on your goals. The two most common types of real estate signage material we use at Houston Sign are corrugated plastic and aluminum.
Regardless of what we recommend, here is a more comprehensive list of the top six materials real estate signs are made of.
Again, we generally recommend options one and two, but other companies may suggest different materials based on your region and design needs.
1. Corrugated Plastic (Coroplast)

This is the least expensive option for your real estate signs. These custom corrugated plastic signs are great with metal frames for easy and durable installation. Because they are already made of durable coroplast material, this type of sign rarely needs lamination.
Using coroplast signs with a hanging signpost may not be your best option as the wind can easily thwart the sign's presentation.
You can get the most bang for your buck by bulk ordering coroplast signs. Use Houston Sign's retail shop to buy yard signs online today. We have 24" x 18", 48" x 48", and 96" by 48" options available. Just upload your artwork, select your size, and choose your order volume. You'll have quality signs in no time!
2. Aluminum Composite (ACM)

Aluminum signs are quite possible best way to go for your real estate signage needs. Common thicknesses for our Aluminum signs are .040, .063 or by using ACM (Aluminum Composite) like Dibond (uses a polyethylene core with aluminum facing).
Real estate signs made of aluminum are the way to go if you opt for a Hanging Sign since they can withstand high-wind conditions better than plastic. You can upgrade your aluminum real estate signs with lamination that protects the ink from scratches. This keeps your signs looking newer despite moving them in and out of your car as you move them around different properties.
3. PVC (Sintra Board)

Sintra board has a polyvinyl chloride (PVC) interior and exterior that typically has a matte finish. These boards are medium weight and very rigid, making them a good choice for either indoor or outdoor real estate signage.
Because this type of PVC board is rigid, it can also be broken under high wind situations. Additionally, this type of real estate signage material isn't great under extremely high temperatures (which we know to be pervasive in the Houston area). For this reason, we generally recommend coroplast signs for real estate agents in Texas.
4. Polyethylene Plastic Sheets

Whereas polypropylene is generally used for coroplast signs, polyethylene can also be used in corrugated form with an I-beam or wave-beam interior. Polyethylene if marginally softer than polypropylene, so hotter temperatures can leave this material prone to permanent bends or bows.
5. Polystyrene Sheets

Polystyrene real estate signs use digital printing and can be solid or foam in nature. It's clear and rigid because it's typically between two layers of clay-coated paper. Polystyrene is generally what people refer to as Foam board. This can be used outside for short term use, but it won't be as durable as aluminum, PVC, or coroplast realtor signs.
6. Gator Board

Gator Board also used a polystyrene interior, but generally has a styrene and poly-coated paper exterior to make it slightly harder than foam board. Like polystyrene foam board it is lighter than PVC, but it should not be considered for extended outdoor use. If you need interior real estate signage, this material may be an option to consider.
Where to Have High-Quality Real Estate Signs Made
So, where should you go to have high-quality and durable custom real estate signage made? The answer is simple – contact Houston Sign! We've been serving Houston businesses for 75 years, and we've built a reputation as a leading sign company in Houston and the surrounding parts of Texas.
Contact us today for a quote on your custom realtor sign needs, or buy signs online today through our retail shop.