Now that it is time to begin back-to-school preparations, you will want to ensure that you have all your school signage printed and ready to go. Keep reading to learn how you can improve your school with signs, banners, and more!
7 Reasons To Utilize School Signs This Fall
There are a few key principles that schools can follow in order to create a safe and healthy learning environment that welcomes academic success. Keep reading to explore seven simple ways to use signs around school to enhance your institution's value and appearance.

1. Communicate Healthy Habits
After a long summer, students and faculty could benefit from a friendly reminder to practice healthy habits. Schools can promote personal hygiene with signs in restrooms, cafeterias, and throughout the campus. Mirrors in restrooms are a popular place to install vinyl graphics pertaining to handwashing, covering coughs and sneezes, etc. Schools are now also incorporating sanitizing stations into common areas around campus, which should be clearly labeled with freestanding signs, printed posters, or banner stands.
2. Label Entrances and Exits
To eliminate confusion on campus, entrance and exit signs are crucial. Indoor directional signs and outdoor educational signs can be used to quickly direct students, parents, and visitors to exactly where they need to be. In addition, many schools find printed maps and campus directories to be beneficial, especially during the first week back. Learn more about back-to-school signs in Houston.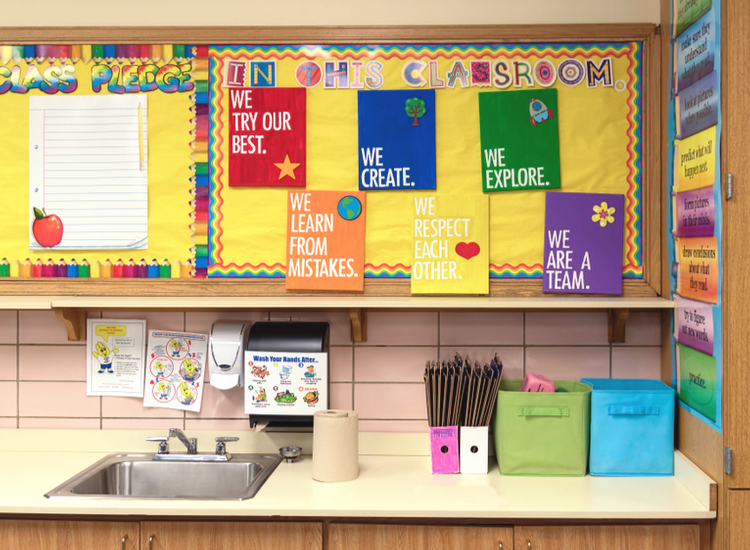 3. Promote Positive Messages
While stressing the significance of health and safety guidelines is crucial these days, no one wants their school to become a boring museum of rules and regulations. For this reason, it is important to promote words of encouragement and positive messages throughout campus.
Use signs to celebrate students, staff, and their accomplishments. Classroom banners, signs, and posters are an easy way for teachers to bring a pop of color into the learning environment. Try incorporating a few motivational school signs and banners into hallways, cafeterias, lobbies, and classrooms too. School banners are a great way to cheer on sports teams, wish students good luck on exams, and spread overall encouraging messages. Contact Houston Sign for custom classroom signage design today!
4. Spread Important Information
Highlight important information at your school's entrance with high-quality signage! This can include reminders of office hours, school hours, first day of school information, parent-teacher conferences, upcoming events, and much more. With customized school-themed signage and office signs, you can ensure that any first-time visitors to your facility will have a positive experience finding the information they need.
5. Advertise Upcoming Events
Build excitement and anticipation amongst the student body with signs promoting the school's upcoming events. Use indoor and outdoor school signs to announce special occasions such as Spirit Week, school dances, Friday night football, PTA meetings, guest speakers, fundraisers, and more. Include relevant information such as date, time, location, ticket prices, and even photos. Houston Sign products are professionally printed with vivid colors to stand out and make a statement.

6. Boost School Spirit
Spread school pride and reinforce a sense of community through visuals on campus. Customized signs that feature your mascot and school colors can go a long way in building school spirit and establishing brand identity. Wall wraps and vinyl banners are great for adding aesthetic value to your campus.
It is important to hire a highly experienced, professional wall decal installation team so that your wall graphics will stand the test of time. Contact Houston Sign for professional signage installation.
7. Create Uniformity
Use consistent fonts, colors, and designs to create cohesion on your campus. Incorporate your school mascot into hallways, classrooms, and common areas to keep students engaged. Many institutions direct traffic the fun way with floor graphics such as horse hooves, paw prints, or arrows in your school colors.
Contact Houston Sign For All Of Your School Signage Needs
Designing school display signs for classrooms can be tedious and time-consuming, but luckily, you do not have to do it alone! At Houston Sign, we cater to your school's unique requirements to create signage that helps improve students' learning experience. Meet with one of our experienced designers to learn how we can make your school more engaging with our variety of products and printing services in Houston.
Contact us today to speak with an account manager about our school signage options.