If you're not already doing trade shows again, you'll start soon. So make sure you are following best practices at your next event with these top tips for trade show displays.
Get Creative
Your trade show booth design speaks volumes about your business, so be creative and make it stand out! To really sell your company, you'll need to make sure your booth sends the right message. So take time to brainstorm creative trade booth ideas that will grab attention and resonate with viewers.
However, before you begin designing your custom trade show display, there are a few things you should take into consideration:
What's your budget?
How much space do you have?
What's your timeframe?
Who will set up the booth?
How often will you use the display?
Answering these questions in advance will help tremendously when it comes time to construct your booth. Contact Houston Sign today to learn more about pricing and how we can work together on your next trade show project!
Invest In Signage
At trade shows, there will be many businesses showcasing their products and services—and they are all competing for the same customers. Fortunately, investing in proper signage will help you stand out from the competition!
Custom printed banners, posters, and promotional products can grab the attention of attendees passing by. Show off your company logo, brand message, product images, and contact information. Use bright colors, easy-to-read text, and clear, crisp photos. This will effectively enhance your brand's visibility. Never forget—professionalism goes a long way in trade show displays!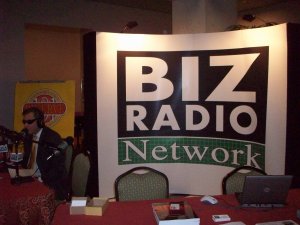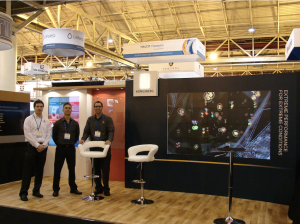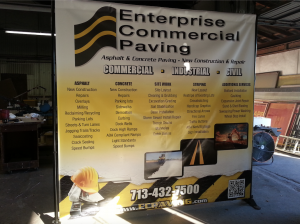 Involve Giveaways
Who doesn't like giveaways? A great way to attract visitors to trade show displays is to offer the chance to win a prize! Allowing people to engage with your booth through games or contests will help you stand out from the competition. In addition, once you have someone interested in your booth, it's the perfect opportunity to start a conversation and make valuable connections.
Stop traffic at the trade show with these custom promotional items for giveaways:
Lanyards
Tote bags
Gift cards
T-shirts
Magnets
Keychains
Pens
Coffee mugs
Journals/notepads
Sunglasses
Snacks
Free trial
Swag bag
Don't forget to brand these freebies with your company name, logo, or colors! Give the people something that will leave a lasting impression. Check out our other blog post for more trade show giveaway ideas.
Incorporate giveaway items into these fun contests and game ideas for trade booth displays:
Prize wheels
Prize drawings
Counting contest
Trivia
Photo booths
Mini golf
Raffles
Virtual Reality
Puzzles
Another tip is to spread the contest or giveaway out over the course of the day. This way, you can ensure people will revisit your booth at least once. Keep your company in their mind throughout the entire event!
Have Fun!
Lastly, you should make your trade booth experience fun for attendees! You can do this by incorporating games or activities into your presentation. Get visitors excited with prize wheels, ring toss, and corn hole-type games. Backdrops and photo booths are another great way to attract people to your booth. Posing with props, accessories, and branded items is a fun way to get people involved with your exhibit. Plus, you will get additional exposure when they share the photos with their followers on social media. Encourage them to use event hashtags and even tag your company in their posts.
Overall, if you plan your booth well and have attention-grabbing signage, you will indeed have a successful event. Be open to interacting with new people, and don't forget to have fun!
Houston Signs Offers Trade Show Design Services
At Houston Sign, we pride ourselves on the quality of our trade show display signage. We offer printed posters, banners, backdrops, branded promotional items, display stands, and so much more. Our team of experienced designers will work with you to create a compelling trade show exhibit that ensures attendees will be drawn to your company's booth. Check out our photo gallery to see some of the previous trade show displays that we've created for Houston businesses.
Contact us online today for more information on our Houston trade show displays.