Need some campaign sign ideas for upcoming local elections? Campaign signs are an effective strategy. Over time, hundreds and maybe even thousands of people drive or walk by a single election sign. Add political yard signs to multiple spaces, and you strengthen name recognition tremendously.

Election sign design isn't something to take lightly. It's not rocket science, but there is almost always room for improvements to be made. We'll make it straightforward and easy with these political sign ideas and tips.
7 Political Sign Design Ideas & Tips
As you're brainstorming designs, keep these variables in mind! They may point you in a direction you haven't even thought of yet.
1. Material
Some candidates go with paperboard or polybag. But for traditional and durable, or uniquely shaped signs, you'll need corrugated plastic.
Check out Houston Sign's corrugated plastic sign options today! Their appearance will last the duration of your campaign. We only produce quality signage with a variety of pricing options based on your volume and turnaround needs.
2. Colors
You'll need to consider a least two contrasting colors for your political lawn signs design. But which ones and why?
Psychology Behind Brand Colors
Red and blue are traditional political campaign choices. Red for ambition, energy, and confidence. Blue for openness, perspective, and awareness. Other options might be black for power, navy for responsibility, green for growth, and yellow for optimism.
Consider Signage Design at Very Start of Campaign
It's a good idea to lock in logo design and campaign colors at the beginning of your campaign. That way, your signage and messaging will incorporate strong design without betraying your brand guidelines. This will result in the most effective long term outcome.
3. Size
You don't want to go too small. Your signs need to be large and easy to read. Your entire campaign should be designed to leave an impression!
Typical signs are 18" x 24". Some larger dimensions that are frequently used include 24" x 48", 48" x 48", and 48" x 96".
If you opt for a larger sign, use the extra space for copy, not photographs. When it comes to the ballot, name recognition is key.
Browse Houston Sign's selection of election and campaign signs. Having a look at some political campaign signs examples could also help you choose your own design.
4. Copy
Rule of thumb? A little goes a long way. Too much information, and you won't communicate anything at all. Most who see your lawn signs will be motorists. You only have a couple of seconds to get your point across.
Keep it simple! The focal point should be your name, ideally your last name. You can also include the office for which you're running, a call-to-action like "Vote" or "Re-elect," and even a photo of yourself. Check out these great examples below.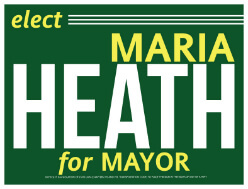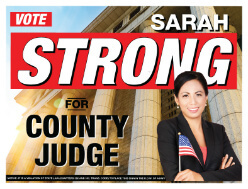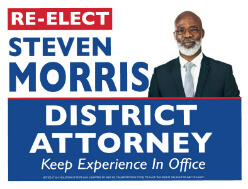 5. Font
So, now we're clear. No extensive messaging. No contact information. Keep it simple, right? The same goes for the font.
Make your font large enough to see from the road while passing. Stick to classic and bold font types. Small, thin fonts don't stand a chance.
Bonus tip – your candidate's name is the most important element. It should be the largest and most bold. Two fonts make the sign a bit more interesting: one for the name and one for the office.
6. Contrast
Don't forget to use color contrast in your election sign ideas. We mentioned the psychology of color in idea #2, but make sure you fully leverage the colors of your campaign.
For example, your campaign brand guidelines may focus on white and red (for ambition, energy, and confidence). If you want your political sign design idea to really stand out, try using white text on a red background instead of the status quo red text on a white background. The use of contrast can help your sign design pop in a memorable way.
7. Setup
When it comes to setup, get your signage out all at once. Make an impact. We suggest getting them displayed in a weekend's time, rather than placing them little by little. Let the voters know your candidate means business!
Trust Houston Sign with Your Custom Political Sign Needs!
Whether you're running for School Board or State Office, we can certainly assist you in design and production. Speak to the voters with power! Let them hear and see you.
Looking for a political lawn sign design that will really set your candidate apart? At Houston Sign, we offer full-color options that allow you to include your candidate's face on the sign – even for the 18" x 24" designs!
Contact Houston Sign today! We'd be happy to serve you. Ask about sample campaign signs to get started. We'll help your campaign reach the masses in a bold, memorable way.