Golf Tournament Sign Sponsors Drive In Donations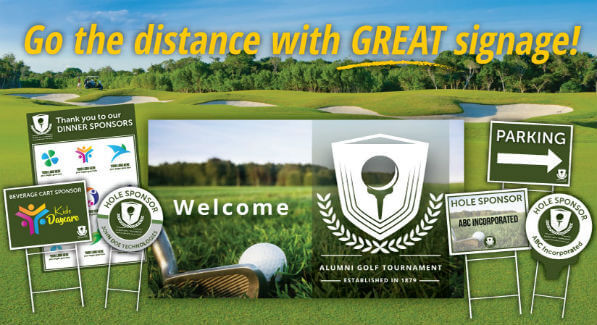 Golf Tournament season is almost here! While the focus of golf tournaments is of course the game and raising money for your organization, it's the finer details that bring everything together. Focusing on displaying your sponsors proudly will make them feel honored to help your organization. So, let's talk about golf tournament signs! There are several different types of signs that will make your golf tournament stand out.
Golf Tournament Banners
What better way to greet golf tournament visitors and players than with a giant welcome banner! These can be anywhere from 2 ft. x 3 ft. to 5 ft. x 12 ft. and are made to be waterproof and fade resistant.
Some other common banners used in golf tournaments are also dedication banners, thanking your sponsors or a large step-and-repeat banner for taking photos!
Golf Sponsor Signs
With most golf tournaments, each hole is sponsored by various businesses and organizations. Hole Sponsor signs are placed at each hole to show who is sponsoring each hole in the golf tournament. These signs are also typically made from coroplast and prominently feature the sponsor's logo and/or name as well as their level of sponsorship (Gold, Silver, Platinum, Bronze). A standard size for these signs is 18×24 as a rectangle but you can also do various shapes, including a sign that looks like a golf ball! These circular hole sponsor signs are usually 18 inches in diameter.
Indoor Signs for Golf Events
Show your appreciation for your golf tournament sponsors inside as well as outside! Foamboard and gatorboard are perfect for an indoor Thank You Sponsors sign because they are rigid and stand up well on easels or on a table. A 24×36 size is perfect for listing all the sponsors' names and logos.
Some common signs you may use with foamboard or gatorboard are Lunch Sponsors, Dinner Sponsors, Dedication Signs, Oversized Checks to present to the organization that the donated money is going to, and much more!
Golf Cart Sponsor Signs and Wraps
To "wrap" this post up, Houston Sign Company can also turn your golf carts into mobile advertisements! We wrap with 3M Control Tac IJ480, which is a step up from the industry standard (IJ180), is more flexible, and holds its shape better. Your golf carts will be the talk of the tournament with a beautiful custom wrap from Houston Sign Company.
Directional Signs
Let people know where to go at your golf tournament with some well-placed directional signage. These are made out of coroplast (corrugated plastic), as this material is waterproof and perfect for outdoor usage. Some common directional signs for your golf tournament include Parking, Food Carts, Putting Contests, Longest Drive Contests, and Course Information.
Call us at 713-701-9741 or use our contact form for pricing and more details!
Enjoyed this post? Click the social media icons on the left to share with your friends!
Gallery of Golf Hole Sponsor Signs
Check out our gallery of golf sponsorship signs to see what we've done for previous customers!