Mastering point-of-purchase (POP) signage has been a vital marketing strategy for retailers for many years, and we know how important it is for you to get it right, right now.
You're going to want to work with a proven expert in the field, and Houston Sign Company definitely fits that bill, having been in business since 1946. With our experience and expertise in POP signs and more, you know you're working with a trusted partner.
What Are Point-of-Purchase Signs?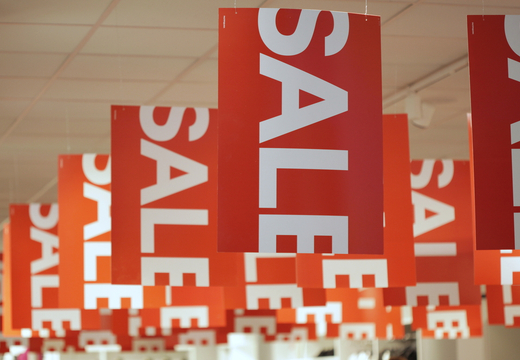 If you're in the business of marketing, you won't be surprised to hear that a huge percentage of consumer dollars are spent on impulse buys that are triggered by POP displays at or around the check stand.
POP signs are designed and intended to create a sense of opportunity and desire as customers wait in line with their orders or browse the products in your retail space.
Endcaps, hanging signage, and floor graphics are good examples of point-of-purchase displays because they fit into the "impulse buy" category of consumer decisions.
You know them when you see them. Two-for-one offers, BOGO specials, and even the daily special sandwich board at the local diner are more great examples.
The Importance of POP Signage
Some experts have suggested that as much as 70% of a customer's purchasing decisions are made in-store.
Think of the savvy consumer who thoroughly reads product ingredient labels. It matters what customers are thinking in your retail space, and if you can influence them toward a certain product as they consider their options, that's a win.
To do that, you need expertly designed, strategically deployed point-of-purchase signs.
Benefits of Point-of-Purchase Displays
One big advantage of using point-of-purchase signs is that you already own the space in which they're going to be displayed. You're not making cyclical payments on ads designed for billboards or the web; you're making an investment that will pay off at a much better cost-benefit ratio.
POP signage also creates an in-store "vibe" for your prospects. Let's face it; if you can get their eyes off their screens, you've accomplished something. If you've ever heard a customer say that they had been looking for an item online, but it was easier to find what they needed in your shop right now, you know the value of great signage.
Tips for Designing Custom Point-of-Purchase Displays
It's not enough that you have POP signage. It's essential that you make it functional, inviting, and engaging. Your customer should have a great experience in your store — where, remember, they make about 70% of their buying decisions. The following are important factors in creating effective POP signs:
Know your audience
Tell a story
Choose the right location
Use bold images
Be concise
Brag about the product's best qualities
Everybody loves a good story. It's just how we're wired. Think about including a compelling customer testimonial or a rave review about a great product you carry.
Using bold fonts and images and saying more with less will also go a long way as you brainstorm how to deploy your POP signs.
The best way to move inventory is to know who you're selling to and to serve them honestly by solving their pain points. This not only makes a profit but also helps your customer. Such service will make them a customer again and again.
Examples of Best POP Signage
Once you read this list, you'll probably feel like you already knew this stuff because it's just common sense. But make sure you're not missing something obvious. The best displays fulfill these criteria:
They're at eye level
They fill empty space
They sit where you've observed customers are already prone to look
They hang from the ceiling, making them impossible to miss
Just making a practice of a couple of these techniques should improve your conversion rates dramatically.
Shop Custom Point-of-Purchase Displays at Houston Sign
Houston Sign Company is your one-stop solution for everything you need for your business signs and lots more. We do all kinds of custom displays in any form you can imagine. We're the partner you want when it comes to all of your signage needs.
Contact us online today or call us at 713-999-6610 to get started.