Shop Our Online Store for Floor Clings Today!
Custom floor signs are a great way to improve the user experience of your space. Retailers can leverage floor clings to call out promotions, trade shows and events can use directional floor decals for traffic flow, and vinyl floor stickers can be used in a comprehensive environmental graphics package.
Use Custom Floor Decals in Houston to Showcase Your Brand
Vinyl floor decals have a broad spectrum of applications, but some of the most common include:
floor decals for business
industrial floor decals
floor decals for trade shows and events
floor decals for gym floors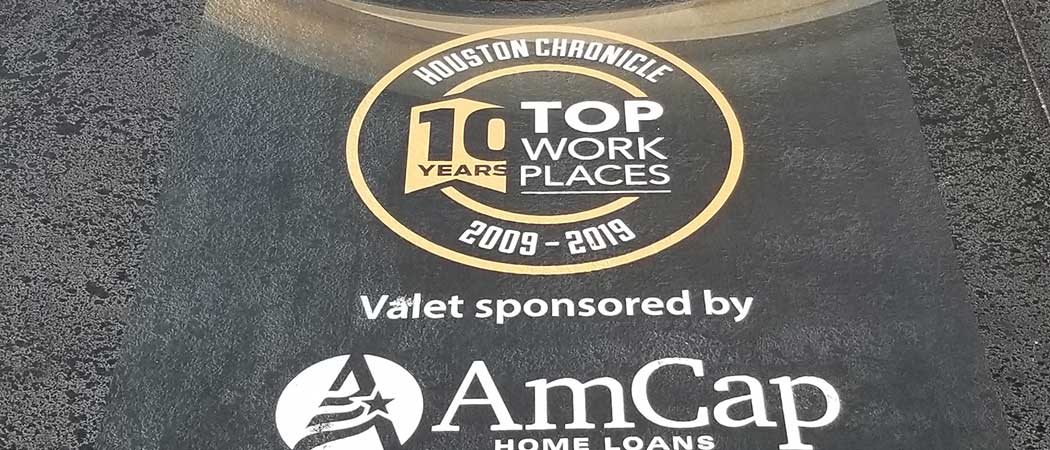 Which Surfaces Can Accommodate Floor Sticker Signs?
Generally, you can apply floor decal stickers to sealed concrete, hardwood, laminate, and tile. With the right care, your floor decal advertising can last for several years.
Wood floor decals are commonly applied to gym floors for sporting events. Whereas, floor decals for concrete are often used in large retail spaces or on sidewalks outside of storefronts.
Installing Printed Floor Graphics
Once you've decided where you're going to apply your custom floor graphics, clear the surface of dust and debris so that the adhesive will be most effective.
The adhesive on your vinyl floor logo will be most effective on a dry surface. Oily and unclean surfaces may require a degreasing solution for the decal to stick properly.
Remove the protective backing, and start applying your vinyl floor decal from one end. Professionals typically use a squeegee to apply pressure from one end of the decal to the other. This helps to prevent any air bubbles from being trapped under the surface and creating a potentially dangerous walking environment.
Common Applications of Vinyl Floor Decals in Houston
As mentioned above, some of the most common applications of these decals include gym floors, on industrial floors in a warehouse or manufacturing facility, inside of a retail location, or at a trade show.

Industrial Floor Decals
Industrial, manufacturing, and construction floor graphic decals lend themselves to safety signage. Potentially hazardous areas can use floor decals to call attention to the dangerous setting and help prevent accidents. Construction safety signs can also help bring attention to overhead dangers that may otherwise stay back-of-mind.
Trade Show Floor Decals
Floor decals are very helpful at trade shows, expos, and other conferences that need to make a public space their own. By applying floor cling signs to help direct foot traffic throughout the event, you can streamline the user experience and help improve your event's effectiveness.
Retail Floor Graphics
Retail floor graphics are a great way to call attention to current specials and help in-store branding efforts. For example, many stores have seasonal sections based on the time of year. By using branded seasonal floor sign printing to supplement your retail signage displays, you can make the most of your seasonal promotions.
Contact Houston Sign for High-Quality Vinyl Floor Stickers
Our sign company in Houston has years of experience with custom wall wraps and vinyl floor decals. Contact us today for a tailored quote on the design and printing of your upcoming project!