If you're spending money on a sign for your Texas-based business, you want to make sure it's high quality and will make a positive impact on your potential customers. There is no room for grainy signs that look sloppy and drive business away.

After almost 75 years as a leading sign company in Houston, we recognize that vinyl banners are among our most popular signage options. However, it's not unusual for our customers to question the proper resolution for banner printing when they come to us with their artwork.
What Is Image Resolution?
Resolution is the quality or clarity of an image on a given medium based on the density of its base components. Image resolution can be boiled down to the number of colored dots or pixels contained within a square inch. The more dots contained, the higher the resolution of your image is.
See the example below for an example of an image file with a resolution of 150 PPI vs. 75 PPI.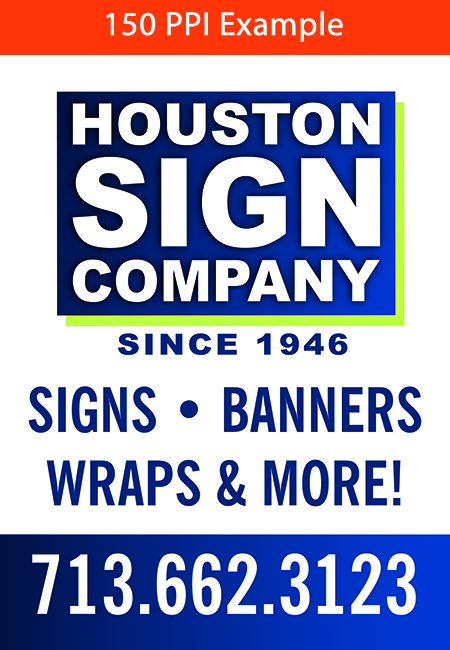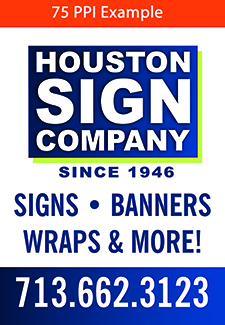 What Is the Difference Between DPI and PPI Resolution?
The image resolution of a digital image would be given in pixels per inch (PPI) since graphics on digital screens are measured in base components called pixels. The image resolution of a printed sign is dots per inch (DPI) since the base components are physical dots of ink on the signage material.
Many people use PPI and DPI interchangeably since they both indicate the resolution of an image. However, the real difference is that DPI is for physically printed graphics, while PPI is for digitally displayed graphics.
Formula to Determine Resolution for Printing
The following equation will help you understand the relationship between print dimensions, digital image dimensions, and signage DPI.
Print Dimensions (inches) x DPI = Image Dimensions Needed (pixels)
or
Image Dimensions (inches) / Print Dimensions Needed (pixels) = DPI
This is the same equation, but the version that you use will depend on which variables you already know about the artwork for your signage.
Desired Print Size and Image Dimension Requirements
In most cases, our customers come to us only knowing two of the three dimensions needed for signage printing that meets (and exceeds) their expectations:
Desired Print Size
Image Dimensions of their Photo/Artwork
Dots per Inch (DPI)
In fact, sometimes businesses only have their current artwork dimensions and the type of sign they want – they might not be aware of the target DPI for their application. In that instance, the Viewing Distance and DPI table in the next section can help.
However, if you know at least two of your three print criteria, you can use the following table to figure out the third.
Image Dimensions (Pixels)
Desired Print Size (Inches)
1,200 x 1,800
2,400 x 3,600
3,600 x 5,400
4,800 x 7,200
7,200 x 10,800
4×6
300 DPI
600 DPI
900 DPI
1200 DPI
1800 DPI
8×12
150 DPI
300 DPI
450 DPI
600 DPI
900 DPI
12×18
100 DPI
200 DPI
300 DPI
400 DPI
600 DPI
16×24
75 DPI
150 DPI
225 DPI
300 DPI
450 DPI
24×36
50 DPI
100 DPI
150 DPI
200 DPI
300 DPI
32×48
37 DPI
75 DPI
112 DPI
150 DPI
225 DPI
40×60
30 DPI
60 DPI
90 DPI
120 DPI
180 DPI
48×72
25 DPI
50 DPI
75 DPI
100 DPI
150 DPI
64×96
18 DPI
37 DPI
56 DPI
75 DPI
112 DPI
Viewing Distance and DPI
Because of the distance at which you view different printed items, each type of sign or collateral will require a different DPI. For example, the best resolution for printing business cards will be much higher than the best resolution for banner printing.
The following chart can be used as a very general rule of thumb by which to measure the DPI your sign printing project may require.
Viewing Range (Feet)
Signage Types
Recommended Resolution
< 3
Decals"}">Product Decals
300 DPI
3 – 10
Banners (Close-range)"}">Banners (Close-range)
150 DPI
Yard Signs (Close-range)
Window Decals
Floor Decals
Wall Wraps (Close-range)
Posters
10 – 35
Banners
75 DPI
Feather Flags
Yard Signs
Wall Wraps
> 35
Large-format Building Murals
12 DPI
Billboards
In many scenarios, you may be working with an image that has already been taken. If you're not sure that your image dimensions are big enough to accommodate the sign size that you want, contact one of our account managers to help you out!
Good Resolutions for Printing by Signage Type
Per the above table, different signs will require different resolutions for printing. We put together a shortlist of signage types that Houston Sign customers frequently order to give you a better idea of what to expect when evaluating your signage size and image resolution.
Banner DPI for Printing
The minimum DPI for large-format printing is generally much lower than that of small-format printing like business cards and direct mail postcards. For example, an outdoor banner that you have positioned 10 – 35 feet from the road in front of your business will only require a DPI of around 75.
Alternatively, the required photoshop resolution for printing banners that are meant for closer viewing, like in hallways, or as point of purchase signage, is around 150 DPI.
Yard Sign DPI for Printing
Plastic yard signs in Houston are usually placed within 10 to 35 feet of sidewalks or roadways near your business. If your corrugated plastic sign is further off the road, a DPI of 75 should suffice. For example, commercial real estate signage is usually placed a bit further off a busy street.
However, you may want to increase the resolution to around 150 DPI if your coroplast sign is very close to a walkway and is mostly there to attract pedestrian attention.
Feather Flag DPI for Printing
Feather flags in Houston are another example of large image printing that will likely be seen from 10 to 30 feet away, depending on their placement. A safe DPI for this signage type is 75, or higher if your flag is in close quarters.
Wall Wrap DPI for Printing
Vinyl wall wraps for Houston businesses are generally installed in a lobby or on a conference room wall that is within 10 feet of the viewer. For this reason, the ideal resolution for printing this signage asset is around 125 to 150 DPI. Keep in mind that your original image size must be considerably large to facilitate this resolution at such a large scale.
Poster DPI for Printing
Marketing and advertising posters in Houston are usually meant for close to mid-range viewing, whether they're used as restaurant signs, retail signs, or even core value signs per your HR department. You'll want to keep these posters around 150 DPI because of their proximity to your target viewer.
Decal DPI for Printing
Custom product decals are generally meant for very close viewing, and you'll want to keep their resolution around 300 DPI to keep the print quality high.
However, floor graphics in Houston are generally meant for at least a 4-5 foot viewing distance (a person's height), and even more than that if the person is looking ahead at the floor. This means that anywhere from 200 DPI (for closer decals) to 100 DPI (for further decals) will suffice for your vinyl floor stickers.
Houston Sign Understands Resolution So You Don't Have to
If you're still unsure of the relationship between your artwork dimensions, the size of your ideal sign, and resolution – don't worry! The account managers at Houston Sign have experience helping our customers determine the best dimensions for most applications.
Contact us today to speak with an account manager and place your order with confidence!