Planning out a fundraising event can be a stressful experience, but if your fundraiser is successful, that experience can also be truly rewarding. Fortunately, there is a simple way to reduce stress and increase your odds of success with your next charity event.
If you've struggled to make your fundraisers a success, the solution may be stepping up your signage. Just a few thoughtful and well-placed custom signs can promote, inform, guide, and encourage, while also maintaining safety — and they won't even cost you a great deal of money.
Custom signage definitely deserves a place on your list of necessities for any fundraiser.
Step Up Your Fundraising Event with Custom Signage
Great signage can make a tremendous positive impact on your charity event. Fundraiser signs meant to direct people to the location of an event can be incredibly helpful and very appreciated by attendees. On top of that, colorful signage gives your event life!
Because of these reasons and more, it's best to use care when selecting what signage to use for your next charity event. Consider what your signs will say, not only in a literal sense but also in terms of tone and messaging. You want your signage — and every other aspect of your event — to be cohesive. Your signs should be an extension of your fundraiser's brand.
Signage Ideas to Make Your Nonprofit Event Stand Out from the Crowd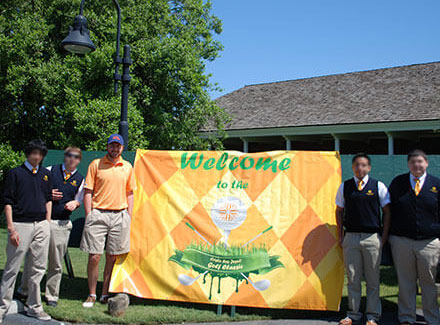 If you want to utilize custom signage at your next nonprofit event, then consider several popular fundraiser event sign ideas:
Entrance Banners and Flags
Entrance banners and flags are useful for a variety of reasons, especially when it comes to creating a clear, exciting entrance.
It's important to ensure that your event is easy to locate, and clearly marking its entrance with custom directional signage is a great way to do that. Also, you want to make your event seem both inviting and exciting, and decking it out with some eye-catching signage can help you achieve such an effect.
It is also essential to use signage to direct your guests throughout the event in general. After your entrance banners have shown them the way in, make sure to clearly mark the way to any and all of the important areas at the event space, particularly restrooms and exits. Feather flags offer a convenient option for this purpose.
Event Backdrops
Backdrops are another multi-purpose form of signage that is portable, affordable, and highly effective. Because of their size, backdrops can provide simple marketing and raise brand awareness.
A custom backdrop can also share sponsor logos, provide a great spot for photography, and help transform your event space so that it really feels as if it belongs to your nonprofit.
Removable Wall and Window Signage
Walls and windows can go more or less unutilized during fundraising events, and yet they offer an incredible amount of space for advertising or simply adding to your event's aesthetic.
You can go for removable signage, which clings to the windows themselves, or you can create a striking window display using custom signage, which allows a lot of room for creativity. Not to mention, window vinyl application is a breeze!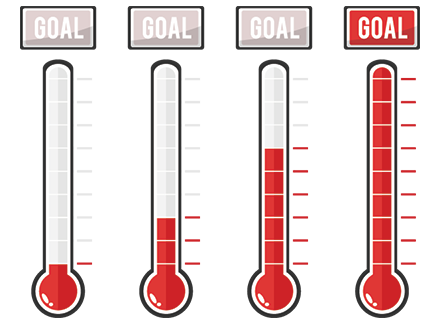 Fundraising Thermometer Signs
Fundraising thermometers are a fun and effective way of displaying your nonprofit campaign's progress.
As the thermometer continues to rise, potential donors are given a visual aid to help them see how their contribution may impact change. It can help to build a sense of excitement and anticipation that may inspire more donations.
Let Houston Sign Help You Promote Your Fundraising Campaign
The right fundraising signs can make a big impact on the success of your next event, and Houston Sign can help you create it. Contact us today to learn more.