There are so many details to stress over when hosting a golf tournament, but the signage doesn't have to be one of them. Having the right golf tournament signs and banners will help keep attendees from getting lost or confused about where to go next. Almost any surface is an opportunity to increase your event's branding success!
6 Essential Signs to Have at Your Golf Tournament
When it comes to signage, it's important to put yourself in your guests' shoes. Of course, you want to earn recognition for your brand and gain sponsors, but without a positive guest experience, none of that will matter.
These six different types of golf tournament sponsor signs will help make your event successful for all involved.
1. Welcome Banners
Welcome banners help to set the tone of any event. As guests enter the grounds, a welcome sign lets them know they are at the right place and helps pump up the energy for a fun day. Make sure to display welcome banners prominently — don't let them get lost in the crowd. Along with directional signs, welcome banners at the event parking entry and the clubhouse entrance (or alternate entry area) will also help direct the flow of traffic.
Don't forget to welcome the players. A welcome banner placed in the area where the participants gather before teeing off adds a professional touch to your tournament.
2. Golf Hole Sponsor Signs
Golf hole sponsor signs are an opportunity for local businesses to get involved with your event. Typically, one sign is placed at each hole to spotlight which company or organization is sponsoring that hole. Another option is to promote sponsorship levels with gold, silver, platinum, or bronze signs.
Various shapes and sizes are available for golf tournament hole sponsor signs. You can even get a fun golf-ball sign. However, the standard look for a sponsor sign is a traditional rectangle yard sign.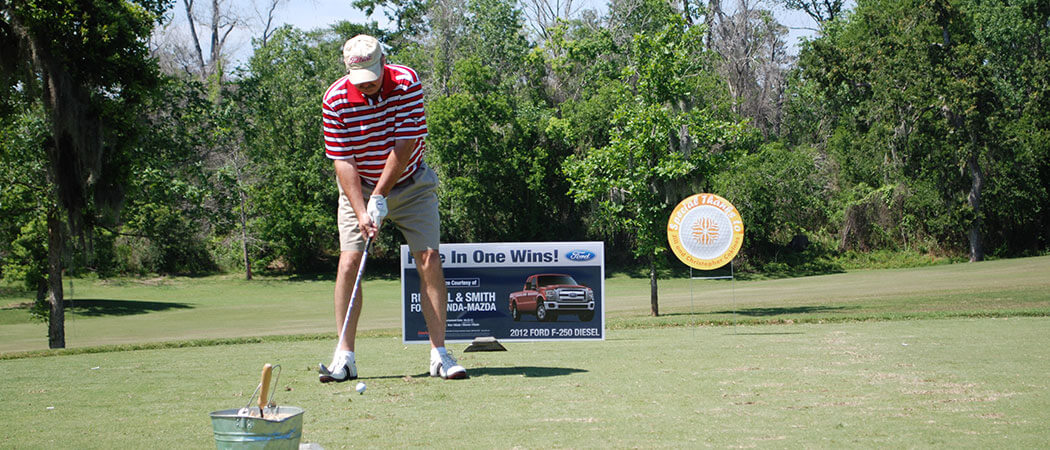 3. Tournament Sponsorship Signs
You want to take every possible opportunity to thank the sponsors that help make your event possible. Reusable golf sponsor signs can be placed at check-in tables, concession stands, and banquet rooms for high visibility. In addition, anywhere your guests might be waiting in line is an excellent placement for a tournament sponsorship sign.
4. Informational and Directional Signage
Guests and players are excited when they arrive at a tournament. Even club members can feel a little confused and overwhelmed when hundreds of people are in attendance. Directional signage is vital to your guests' experience. People won't be excited about attending your next event if they have to spend all day figuring out the basics. Make it clear where the bathrooms are located and when the awards ceremony will be held.
Information and directional signs keep the traffic flowing. They should be bold and easy to read, with large arrows and colorful text that catches the eye. You may also need directional signs to section off special zones, such as parking lots, family areas, and VIP zones.
Informational signage is another opportunity to involve sponsors and promote your organization's brand.
5. Custom Golf Cart Decals and Vehicle Magnets
Removable golf cart decals and custom vehicle wraps bring one more level of professionalism to your tournament. Use them for informational signage on designated carts or as another sponsorship opportunity. Make sure to include your organization's logo/branding on each decal for a cohesive look that guests will recognize immediately.
6. Feather Flags
The tall, vertical pop of a feather flag increases visibility and helps guests see your signage at a distance. Feather signs are made from durable materials like polyester or nylon. You can use them in numerous ways, such as directional signage, branding, or marking important locations.
Because they are tall and have natural movement, feather signs are ideal attention-getters and easy to see over a crowd of people. Consider using customized feather signs strategically so that guests recognize their importance.
The Importance of Custom Golf Tournament Signs
Signage helps your organization establish an identity among guests and participants. Golf tournaments are filled with sensory experiences — crowds of people, colorful clothing, beautiful landscaping, and exciting play. Customized signage makes it possible for your brand to compete with all of that.
Attendees will see your brand all day long. Your exterior signs help them find where they should go and provide the crucial information they need to enjoy the day. In addition, signage helps to link a guest's positive experience with your organization.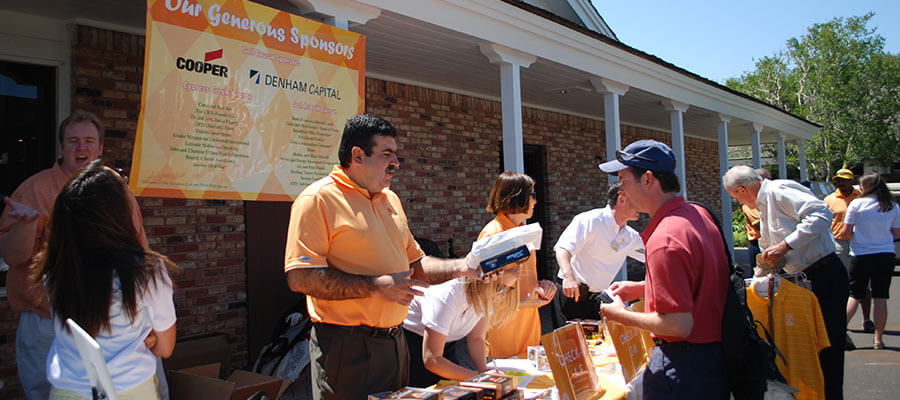 Houston Sign Has Your Golf Tournament Covered
Choose Houston Sign for golf sponsor signs, welcome signs, and all your tournament signage needs. Our custom sign company in Houston, TX helps you build brand visibility through top-notch customer service, creative graphics, and quality products.
Contact our team today to get started with your custom golf tournament signage.