Working on a construction site requires the presence of certain signs to ensure safety and compliance with regulations. These signs provide important information about the hazards present in the area and instructions for workers to follow. They also help to remind workers of their responsibilities and duties when working on a project. By understanding what construction site signs are required, you can ensure your job is safe and compliant with relevant laws.
Mandatory Safety Signs Required on A Construction Site
Safety signs are critical components in project sites because they provide visual communication that helps to prevent accidents, injuries, and even fatalities. Construction sites are often dangerous working environments, where numerous hazards can cause serious injuries or even death if proper precautions are not taken.
Construction worksites become even more perilous without safety signs, leading to increased accidents and injuries. Therefore, safety signs are crucial for ensuring the safety of workers and the public on construction sites, reducing the risk of fatalities, injuries, and related costs.
Signs Indicating Personal Protective Equipment (PPE) Requirements: These signs indicate the personal protective equipment that must be worn in the area. They typically include images or text displaying the required PPE, such as hard hats, safety glasses, or earplugs.
Signs Indicating Hazardous Materials: These construction site signs are used to indicate the presence of hazardous materials in the area. They generally include a warning symbol or text indicating the type of hazard, such as flammable, toxic, or corrosive.
Signs Indicating Emergency Procedures: These signs indicate the procedures that should be followed in the event of an emergency, such as a fire or natural disaster. They typically include text or images indicating the evacuation route, assembly point, or emergency contact information.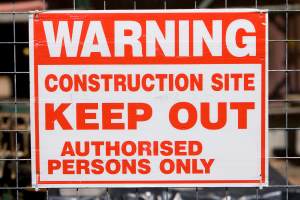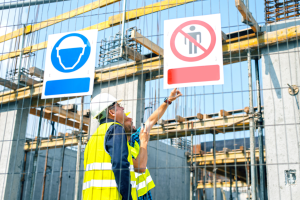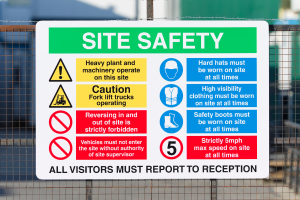 Explore OSHA Construction Site Signage Requirements
Informational Signs Required on A Construction Site
Informational signs are employed in work sites to provide warning, instruction, and guidance to workers, visitors, and the general public. They offer clear, concise, and easy-to-understand messages telling people valuable construction site information.
Directional Signs: These signs help navigate through the construction site by indicating the location of specific areas, such as the main entrance, the restroom, the first-aid station, and the contractor's trailer. Directional signs may also include arrows and symbols to guide pedestrians and vehicles.
Project Information Signs: These construction site signs provide essential information about the project, such as the contractor's name, project name and number, start and end dates, and contact information. They also display safety information and emergency procedures.
Parking and Traffic Control Signs: These signs distinguish specific parking areas for employees, visitors, and disabled individuals. They also inform drivers to slow down, proceed with caution, and follow specific routes to avoid accidents and congestion. Parking signs can include speed limits, tow-away zones, and cautionary warnings about heavy machinery.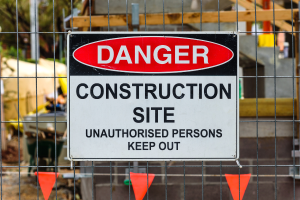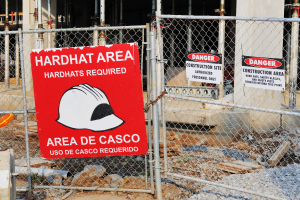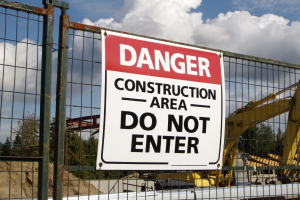 Optional Signs That Can Be Used on A Construction Site
Construction signage doesn't have to be all business. There are several other types of signs to display on your work site that serve various purposes.
Motivational Signs: These construction signs inspire workers and promote safety at job sites. They may contain messages such as "Think Safety First," "Safety is No Accident," or "Stay Alert, Stay Alive." These signs help to create a positive and safety-conscious work environment.
Marketing Signs: A construction site can be viewed as a billboard, as it can be seen by many people passing by. Coroplast signs can be used to promote the construction company or the project to potential customers. They may include company logos, project details, or other promotional material.
Signs for Public Relations: These signs are designed to promote the construction company and its projects to the public. They may provide information about the project's benefits to the community, the project timeline, or its relationship to other ongoing construction projects in the area.
Get Your Custom Construction Site Signage from Houston Sign Company
Houston Sign Company is your go-to source for all your custom signage in Houston, Texas. Our experienced team of designers can create a wide range of signs to meet the specific requirements of any construction project. We offer a variety of materials, sizes, and designs to ensure that your signage meets all safety standards and looks great at the same time. From permanent signs to temporary banners, we have the perfect solution for you.
Contact us today to get started on creating your custom construction site signage.