Plastic Yard Signs Grab Attention
Yard Signs announce your event and get attention. Our yard signs can be printed in full color for maximum impact and attention. Coroplast yard signs are an inexpensive way to advertise your business, events, political campaigns, school carnivals, yard sales, church bazaars, and more.
Yard signs are an incredibly effective way to deliver a local message. Companies and organizations use yard signs and feather flags to announce events, promote sales, introduce candidates and direct traffic. Just a few examples include political campaign signs, little league sign-ups, "now open" signaling, or directional signage. Whether you need small decals or large signs up to 4'x8' in size, we can get your message delivered!
Quality Yard Signs for Your Beaumont Business
If your Beaumont-based business has been affected by shut-down orders, it will be important to communicate with your potential customers that you're open for business. Beaumont yard signs are a great way to do just that!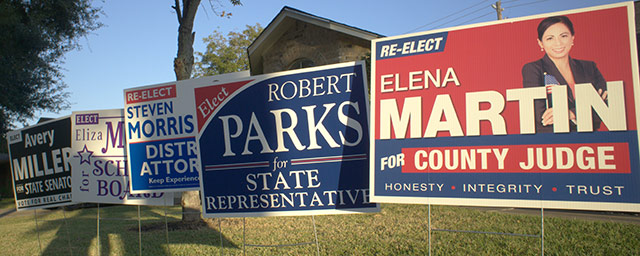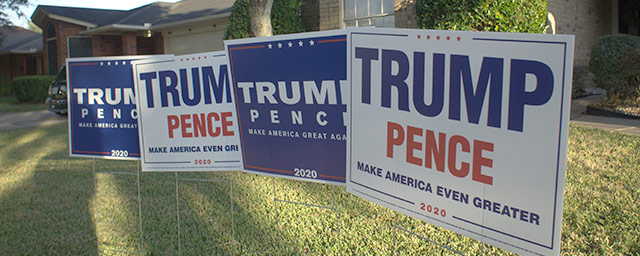 Strategically place grand re-opening yard signs around the high-traffic areas of your business to attract passers-by to your location. Whether you're a restaurant, bar, club, or retail store that has been shut-down as a matter of public safety, leveraging coroplast yard signs for your re-opening is a must.
If custom corrugated plastic signs don't suit your business location, consider opting for multi-color feather signs or custom banners. All types of custom lawn signs will help attract the attention you need to keep your bottom line in the green. Contact us for quotes today!
Benefits of Custom Yard Signs
Whether you are getting the word out about a political campaign, a real estate opportunity or a property, when you choose custom yard signs, you have the chance to advertise your products or services to a wide range of people.
Sign Your Work: When you use yard signs, you also get to sign your work. Show the people passing by that your company is the one behind the construction, lawn maintenance or renovation.
Reach Locals: Yard signs let you advertise to locals about an apartment for rent, a garage sale or an open house. You can even use event yard signs to generate local foot traffic. It's easy to display important details or promote certain attributes.
Establish an Identity: Through using professional-caliber printing and materials, you can use a consistent color scheme or display your name and logo to help establish your identity as a company.
We offer short runs for custom signage, as well as Beaumont yard signage packages for common events.
Color and Design Options for Yard Signs in Beaumont
Yard signs can be printed with just one or two colors, or in full color for an even greater impact. A full-color sign allows you to show things that might be hard to convey in a few simple words. Our yard sign company can print simple black and white, or full-color, whichever suits your needs best.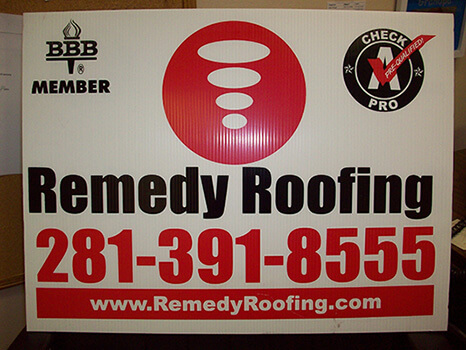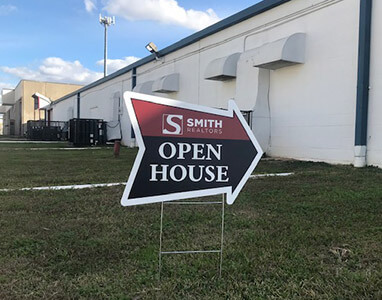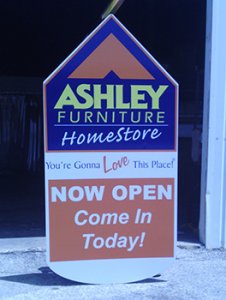 We offer a range of options, sure to suit every need. Our graphic designers can help you with ideas and bring your project to life using a full array of large-format sign printing technologies, including digital and screen printing on the following materials:
Vinyl
Acrylic
Flexible Corrugated Plastic
MDO Plywood
Coroplast
Glass
Plastic Film
Aluminum
Installation Options for Yard Signs
Your corrugated plastic signs can be installed in the ground, on wooden or wire stakes, on electric poles or trees. No matter the size or method you choose to display your sign, we can ensure that our signs will catch the attention of customers.
Houston Sign Company is your best source for a wide variety of high-quality, custom signage, graphical communications, and displays. From posters to banners, we can print your message in any size you like for indoor and outdoor display.
Unique Yard Sign Designs
Our sign company can produce campaign and yard signs in a wide variety of shapes and sizes. If you choose to have a unique shape, such as a balloon to advertise an event or the outline of a food or product, we make customization simple & effective. As one of the top sign companies in Texas, we have all of the in-house capabilities to meet all of your needs.
With our custom corrugated plastic signs, your audience pays attention and your message gets delivered.