Tow away signs are a type of traffic sign that inform drivers that their vehicle may be towed away if it is parked in a designated area for too long. They are usually placed near parking lots and garages. This article will explore the benefits of reserved parking signs and how they can help your business.
The Importance of Towing Signs for Your Business
The parking lot is a common place for all sorts of mishaps to happen. To avoid these incidents, there must be clear instructions for people to follow. One of these instructions is the use of tow away zone signs. These signs are a way for people to know which parking areas they should be using. This can help them avoid fines and other penalties that might come with leaving their vehicle in the wrong spot.
Towing signs are not just limited to private business lots, but also public ones as well. They can clearly distinguish where customers and employees can park their vehicles. This helps ensure that everyone has an easier time finding their car when they return from work or shopping trips.
But perhaps the most important consideration for tow away signage is working with a trusted sign company that is well-versed in producing street-legal signage. Contact Houston Sign today for a custom quote!

The Benefits of Tow Away Signs
Driving is a privilege, not a right. As such, parking spaces should be taken up by those who need them the most. This is why towing signs are so vital. They allow people with disabilities to have a designated place to park their car, as well as other people who need to be closer to the building they are visiting. The benefits of reserved parking signs include:
Allows visitors with disabilities to find a space near the entrance or exit
Provides designated spots for staff members or customers who need them on days when there is high demand for parking in your area
Maintains the safety and structure of your parking lot, keeping it organized for drivers
Keeps customers/tenants happy by taking extra measures to ensure they have available parking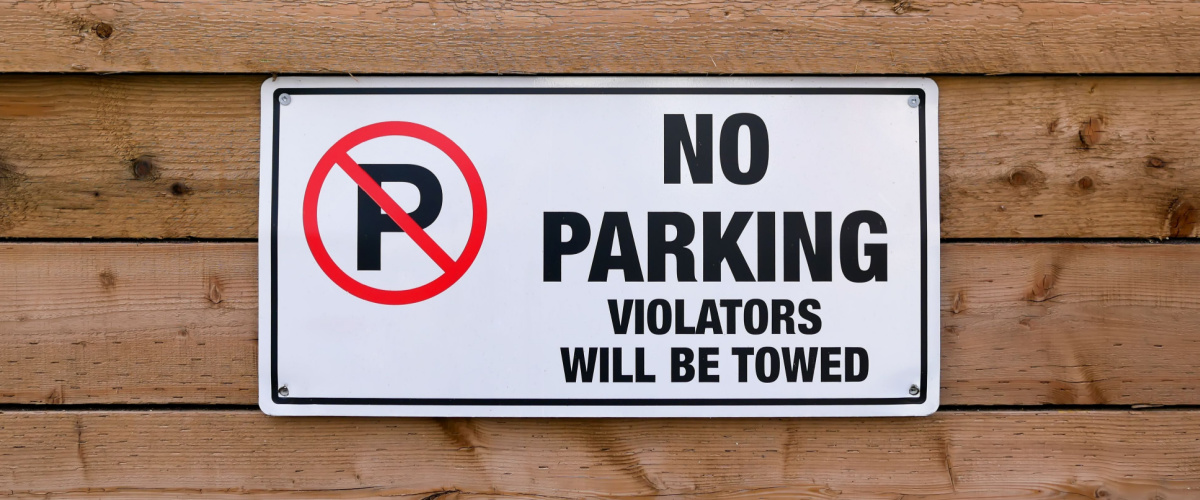 Tow Away Zone Signage Requirements in Texas
Each place of business will have its own parking lot signage standards to adhere to. However, there are also state-specific laws regarding towing signs. Be sure you are working with a design company that will design within those laws. The tow away signage requirements for Texas are as follows. (Requirements as of September 2022.)
Tow away zone signs must be made from weather-resistant materials such as metal or plastic. Additionally, the sign dimensions should be at least 18 x 24″.
The sign needs to contain the following information.
Upper portion of sign – Include the international towing symbol in red, at least four inches tall, and must be on the uppermost portion of a sign. Directly below should be "Towing Enforced" in white letters of at least 2 inches in height over a red background.
Middle portion of sign – Display the text, "Unauthorized Vehicles Will Be Towed at Owner's or Operator's Expense" in red at least one inch in height on a white background. Also include specifics about who may and may not park as well as the days and hours towing is enforced.
Bottom portion of sign – This is where you put the 24-hour phone number that people can call to locate their towed vehicle. It should be in white letters, at least one inch tall, on a red background.
At Houston Sign, we've made hundreds of TDLR-compliant tow away signs over the years. Contact us today and we'll make a plan for your business!
Need Tow Away Signs Fast? Houston Sign Can Help.
Contact Houston Sign today for your custom tow zone sign needs! We are the #1 custom sign company in Houston, TX, and we offer the best quality and service in the industry. In addition to towing signs, we also offer custom parking permit stickers and car window decals. So whether you need to keep unauthorized vehicles out of your school, apartment building, or business parking lot, we have you covered.
We also specialize in ADA-compliant signage, directional signs, property management signs, and office signs in Houston.
Contact us today for a complimentary quote on your tow away zone signage!