Efficient warehouse operations are crucial for businesses to reduce handling costs, increase productivity, and ensure high-quality customer service. One way to improve efficiency is with clear and effective warehouse signage systems. Properly placed aisle, row, hanging, and wayfinding signs can help provide guidance on where to go in the facility.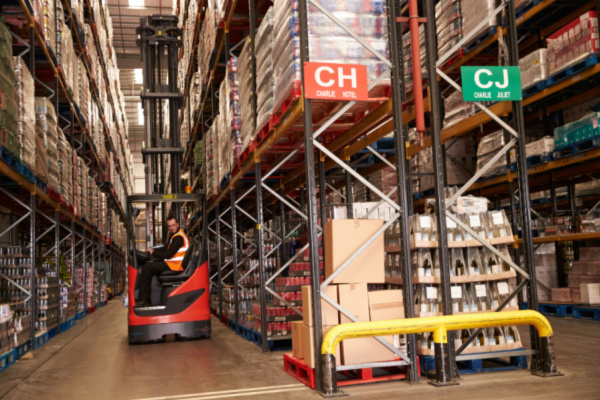 How to Use Signage to Improve Your Warehouse Efficiency
Investing in a clear and effective wayfinding signage system can have numerous benefits for businesses. It can help improve warehouse efficiency, reduce the risk of accidents, and promote overall workplace safety. Additionally, it can help keep warehouses orderly, regardless of the types of materials or products stored or how they are handled by employees.
Ultimately, well-designed and implemented warehouse location signs can contribute to the success of a business by optimizing operations and improving overall productivity.
Common Types of Warehouse Signs
Warehouse Aisle/Row Signs: These signs are used to identify a warehouse's different aisles or rows. They typically include the number or letter of the aisle or row and can be mounted on the floor, walls, or racks.
Warehouse Floor Markings: These graphics are used to mark the floor of a warehouse with lines, shapes, or colors to indicate specific areas or hazards. Floor graphics can mark walkways, loading zones, or areas where equipment should not be placed.
Warehouse Dock Door Signs: These warehouse location signs are used to identify the different dock doors in a warehouse. They typically include the number or letter of the dock door and can be mounted on the wall or door of the dock.
Warehouse Entrance/Exit Signs: This type of warehouse signage can be used to indicate the entrance and exit points. It can be mounted on walls or doors and may include directional arrows to guide traffic flow.
Warehouse Hanging Signs: These signs are suspended from the ceiling and are used to identify specific areas or zones in a warehouse. They can be customized with text, graphics, or symbols to convey information about the area.
Material & Design Options for Warehouse Signage
When it comes to custom warehouse signs for aisles, rows, racks, and floors, there are a variety of material and design options available. You should always select signs made from durable materials that can withstand the conditions of your facility. Consider factors such as temperature, humidity, and exposure to sunlight.
Lightweight, rigid PVC
Anodized aluminum
Corrugated plastic
Vinyl cut graphics

Multicolor options
Weatherproof options
Double sided options
It's important to use clear and concise messaging on the signs to ensure workers can quickly and easily identify the location. In addition, use consistent font sizes, colors, and symbols to ensure uniformity.
Tips for Installing Warehouse Aisle Signs
Plan the Layout: Before installing warehouse aisle signs, plan out the layout of your facility to determine the most efficient flow of traffic. This will help you determine the best locations for the signs.
Ensure Proper Placement: Install signs at a height that is visible to workers and positioned in a way that does not obstruct walkways. Signage should be placed at the beginning and end of each aisle or row.
Securely Mount the Signs: Use appropriate hardware to securely mount the signs to the wall or rack. In some cases, signs should be mounted flush against the surface to prevent them from becoming a hazard.
Regularly Inspect and Maintain the Signs: Frequently inspect the warehouse aisle signs to ensure they are still legible and securely mounted. Replace any damaged or faded signage to ensure that they continue to serve their purpose.

Maximize Productivity with Houston Sign Company's Custom Warehouse Aisle Signage
A consistent set of warehouse signs helps employees identify areas quickly, reducing the risk of accidents and improving overall productivity. Therefore, investing in wayfinding signage systems is essential for businesses to optimize their warehouse operations and achieve their goals.
Houston Sign Company's custom warehouse signage can help you maximize productivity and efficiency in your warehouse. Our warehouse aisle signs are designed to be durable, legible, and easy to install—allowing you to quickly set up a safe and efficient work environment for your employees. With our custom hanging warehouse signs, you can easily identify hazardous areas, mark aisles and exits, label inventory items, and more—all while ensuring your workers know the safety protocols in place.
With Houston Sign Company's custom warehouse signage solutions, you can ensure that your workplace is as productive as possible! Contact our team today to learn more about how we can help your business.