Yard signs are one of the most powerful tools to attract customers outdoors. They can be used for various purposes, from promoting an event to selling a product or service. In this guide, we will talk about several ways in which yard sign marketing can be used to grab the attention of customers.
What Makes A Good Yard Sign?
Effective signage is the key to any successful outdoor marketing campaign. It creates the first impression and sets the tone for your brand. Custom signs you put up are meant to be seen, so it's essential to make them as effective as possible.
A good lawn sign catches the eye of the passerby and makes them stop to read it. It should be large and well-lit enough to be readable from a distance. The message should be clear, concise, and compelling. Most importantly, the signs must be durable enough to withstand weather conditions.
Attracting Customers with Yard Signs: 3 Approaches
Yard signs are a great way to promote a business. They're easy to put up, and they won't break the bank. But how can you make them work for you? Here are a few ways to entice and attract new customers with outdoor business signage.
Yard Signs as a Marketing Tool: Yard signs are a great marketing tool for any business. They can be placed on lawns, near busy intersections, and even on the side of the road for visibility. In addition, lawn signs can be customized with any company logo or slogan to suit your needs.
Yard Signs as a Promotional Tool: If you want to promote your event, yard signs are the best way to do so. You can place them where the event will take place or advertise it near your establishment so that people know about it beforehand.
Yard Signs as an Informational Tool: Yard signs are a great way to inform people about what is going on in your community and more importantly, in your business. If you have new products or services you want people to know about, then lawn signs are the way to go.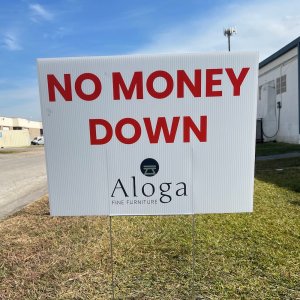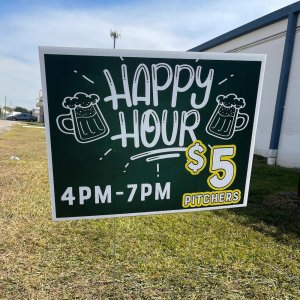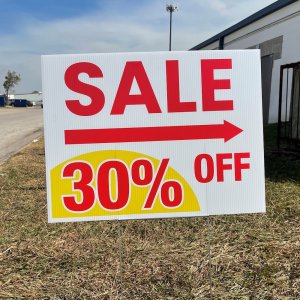 Types of Custom Yard Signs
Lawn signs help establishments attract more customers and create brand awareness. In addition, they provide an opportunity for businesses to promote their products or services in a creative way that is memorable for potential customers. Common types of yard signs used by business owners are listed below.
Yard signs for sales, specials, and promotions
Now Open yard signs or Grand Opening banners
Signs that showcase recognition and awards of your business
Signs that hype up a new product or service launch
At Houston Sign, we produce corrugated plastic yard signs, outdoor aluminum signs, feather flags, corrugated plastic yard letters, retail signs, storefront signs, and more.
Tips for Designing Eye-Catching Yard Signs
A well-designed sign is an investment in your company's future. Here are some guidelines to keep in mind when designing your yard sign marketing materials.
Make sure that it's readable from far away. Make sure your design is large enough so that people can read it from 20 feet away. Bonus tip: Put up multiple signs in different locations so more people see them. Stick to the best fonts for signs.
Use contrasting colors. Use bold colors and graphics on your sign that will catch people's attention. Bright colors are more likely to catch people's attention than dark ones, so make sure you use them! Discover the best material for outdoor signs.
Keep the design simple. Ensure that your sign is not too cluttered and has a clear message. The simpler the design, the easier it is for people to understand what your company does and remember where they saw it.
Include contact and directional information. Remember to include your phone number or website on the sign so customers can reach you easily. You can also use catchy phrases, words, and slogans to catch the passerby's attention.
Practice design consistency. Create a cohesive design with other marketing materials like brochures, business cards, and website.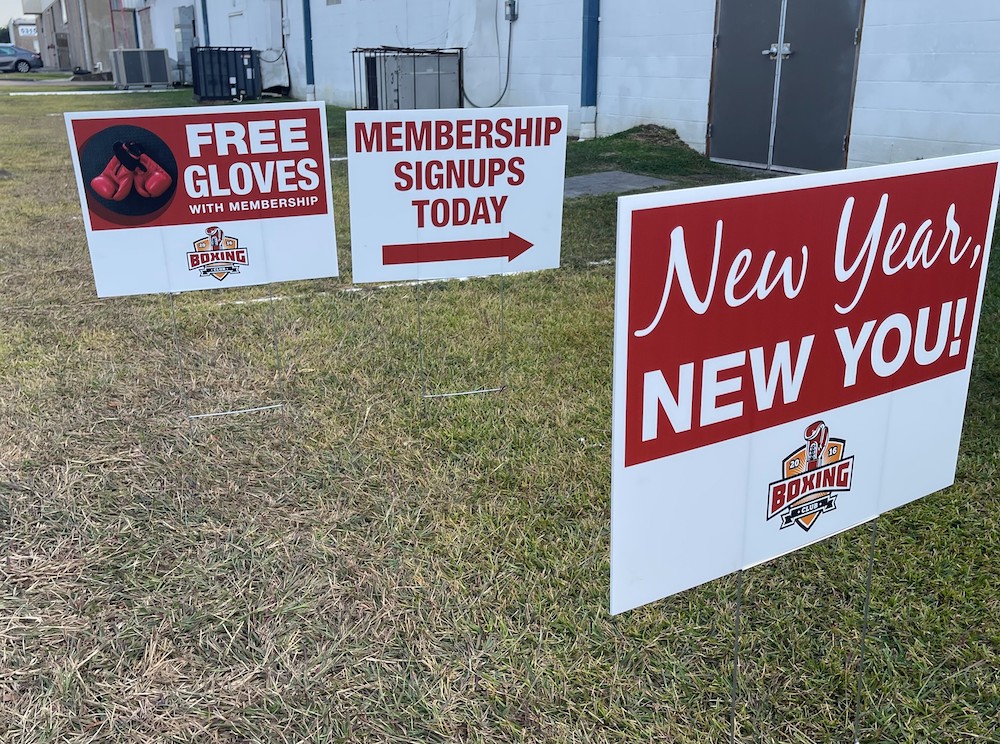 Turn Your Yard Sign Marketing into Profit with Houston Sign
Local businesses in Houston often use yard sign marketing to entice potential customers. Are you looking for new ways to attract clients with outdoor signage? Reach out to the experts at Houston Sign.
Contact us today to learn more about our yard signs in Houston, Texas.