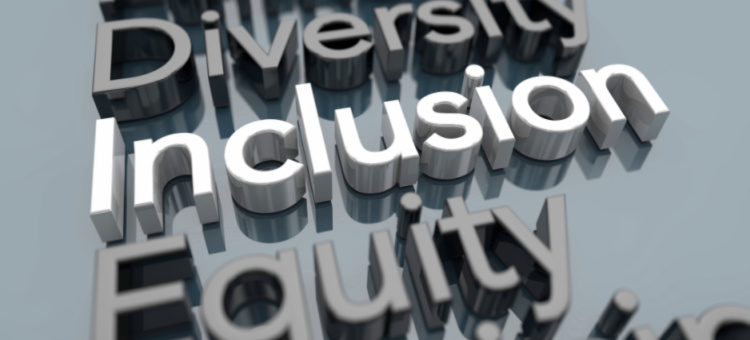 Inclusive design is a lot of things, and if you research it, you could feel a little overwhelmed, especially if you're just trying to find out how your business can comply with the law. The heart of inclusive design is to add value and make everyone feel like they belong or at least can have unhindered access, no matter their individual situation.
These principles communicate the spirit of inclusive design regulations:
Inclusive: Safe and can be used with dignity by all
Responsive: Listens to what people say they need and desire
Flexible: Accessible and usable by different people of different abilities
Convenient: Reasonable for everyone to use it
Accommodating: No regard for age, gender, mobility, ethnicity, or ability
Welcoming: Excludes nobody and is open to all
Realistic: Recognizes that a single solution may not be the solution for all
When you think of inclusive design from the perspective that sees all humanity as one body, it's easier to understand that whenever one of us is marginalized, we should all feel that pain.
What Is Inclusive Design?
Inclusive design principles are straightforward. Designing for inclusion is just a matter of asking specific questions, answering them carefully, and thinking critically about solutions. In short, you want to:
Provide a comparable experience
Consider the situation
Be consistent
Give your customers and guests control
Offer a choice
Prioritize the disadvantaged in your content
Add value
Now that we've covered the basics, let's dig into the nuts and bolts.
Accessible Design vs. Inclusive Design
You may be thinking, "I've heard about inclusive design vs. accessibility, but what's the difference?" The words accessible and inclusive are often used interchangeably. And although they're related, they're not the same.
Accessible design is more focused on the outcomes of effective design. It asks questions about how well the design's goals have been met.
Inclusive design is instead focused on the approach to a design. Inclusive design is a process that creates an experience for a diverse group of end-users. The inclusive design process begins with identifying situations in which existing designs would exclude people, and it sets goals for solutions.
The Importance of Inclusive Building Design
By now, it's evident that the benefits of inclusive design are manifold. Inclusive building design allows more people to experience, patronize, use, and participate in what so many have perhaps taken for granted in the past.
If you're a business owner, it has probably already occurred to you that noncompliance with ADA regulations isn't just a bad idea — it's bad for business.
How to Design for Inclusion with ADA Signs
The ADA (Americans with Disabilities Act) became federal law in 1990 and defined a disability as "a physical or mental impairment that substantially limits one or more major life activities."
Where it manifests in real life is in impaired vision or hearing and limited mobility. In addition, the act mandates ADA-compliant signs to make commercial spaces inclusive.
However, accessibility and inclusivity are becoming almost ubiquitous these days. If your building is relatively new, it should already be ADA compliant for accessibility. But most of what you need to implement inclusive design involves buying and properly installing the right environmental graphics and signage.
Who, What, and Where Needs ADA Signage?
Because trying to cull useful information from a dot-gov website can be daunting, we compiled a targeted list to help you know when your building is — and is not — required to have ADA-compliant signage.
ADA-compliant signage is:
Needed to designate a permanent space in a building (like restrooms)
Needed when an area of the building pertains to safety (fire exits, stairways)
Not needed to designate a temporary space set up for fewer than seven days
Not needed outside the building anywhere not designated for public use
Not needed on business name signage or in parking lots (except for accessible parking spaces)
We recommend following these guidelines at a minimum, but you should definitely consult the law, even if you need to discuss things with a lawyer. Compliance in business is important.
Boost inclusivity with our custom office signs in Houston.
Types of All-Inclusive ADA Signs
The most common ADA signs you've seen in the past few years have probably been the ones used to designate restrooms in public places.
For example, many shops and restaurants have two single-use restrooms that in the past were designated either for men or women. An all-inclusive sign now usually designates both restrooms as "all gender." Crucially, these interior signs must include braille to be compliant.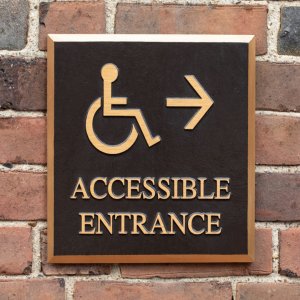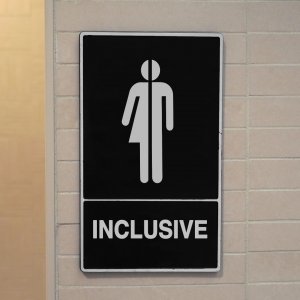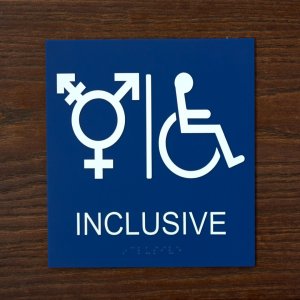 Avoiding ADA Sign Violations in Your Building
As of May 2022, the most common signage-related violations included either incorrect ADA signage or no signage at all, that existing signage was not posted at the proper height, and that building staff was not properly trained on ADA signage regulations. So again, make sure that your signage includes braille, or it will not be in compliance. Check out our sign letter height visibility chart for help.
Houston Sign Offers ADA Signage and Other Inclusive Designs
Houston Sign has been in business for decades, and we're your one-stop shop for anything and everything you need to comply with the ADA.
We have directional signs, restroom signs, parking lot signage, and more, including signs for stairways, elevators, telephones, and fire safety.
Whatever your ADA sign compliance needs are at your place of business, Houston Sign either has it in stock or can make it for you, no matter how big or small the order.