Custom timeline wraps are one of the most effective tools for communicating the history and growth of a company. They are a great way to show employees the company's success, and they can also be used as a motivation tool. This blog discusses how a timeline wall graphic can be used in a variety of settings as an effective tool for communication that is visually appealing to audiences.
What is a Custom Timeline Wrap?
A custom timeline wrap is a great way to tell your company's story. It's a visual representation of the history of an organization. It can be used to show the company's narrative, its milestones, and how it has evolved over time. Company timeline walls are a great way to celebrate the past while looking forward. They look great in:
Offices
Lobbies
Meeting rooms
Waiting areas
Break rooms
Discover more great interior office signs.
The best part about it is that you can customize it to fit your company's needs. They are also often called history wall displays, timeline wall installations, and corporate milestone murals.
The history wall display is a great way to remind people of what they are working towards and why they are doing what they do. It also serves as a reminder of the hard work that has been done by employees in the past and how it has helped create a better future for themselves and their families.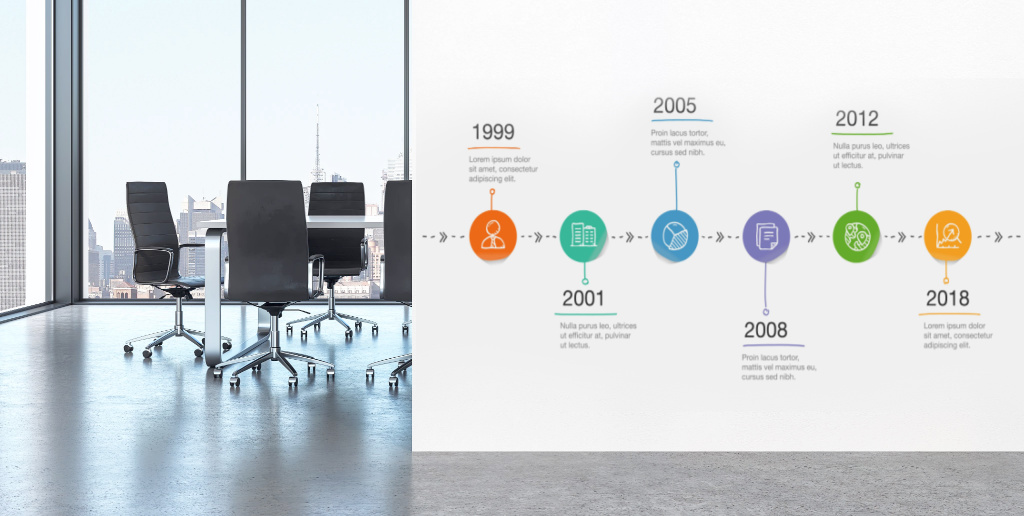 Types of Company Timeline Wall Graphics
The first step in creating a timeline wall is deciding on what type of timeline to use. There are two common types: linear and non-linear. Linear timelines typically start at one point in time and end at another point in time. In contrast, non-linear timelines have no beginning or end points and instead highlight the essential milestones in no particular order.
Linear timelines are often used for historical events because they provide an easy-to-follow, chronological storyline with clear beginnings and endings. However, non-linear timelines can be more effective for organizations that don't necessarily have an extensive history.
How to Tell Your Brand Story with a Timeline Wrap
Are you looking for fresh ideas to jazz up the boring walls in your workplace? Why not tell your company's story with a timeline wall graphic? Environmental graphic design is a highly effective way to portray pivotal moments in a company's past. Government and educational institutions have long found them helpful in sharing milestones and creating an inviting visitor experience. Today, their use has been adopted by the corporate world as a form of strategic marketing. Below are a few things you should keep in mind when creating your own company timeline wall.
Things to Consider When Designing A Company Timeline Wall
Keep your audience in mind when designing. For example, who will be looking at the wall wrap the most—prospects, customers, or employees?
What is the goal of the wall art? What's the takeaway? Any messaging should provide value to your target audience.
Choose the right sign company that can not only guide you through the buying process but help you design, fabricate, and install it.
When creating your timeline, take into account the environment, messaging, visibility, and size of the space.
Choose visual elements (photographs, illustrations, fonts, brand colors) that catch your viewers' attention and are relevant to your story.
Consider your budget and plan for the long run. For example, do you intend to update the mural when new milestones arise? Will there be any upkeep or maintenance fees down the line?
Explore the benefits of decorating with interior wall wraps.

Spice Up Your Space with Timeline Wraps from Houston Sign!
Whether you want simple wall art or a complex timeline wall graphic to tell your company's story, come to Houston Sign Company. Since 1946, we've supplied business owners all over the Houston area with vinyl wall graphics, custom environmental design, window business decals, custom point of purchase displays, and custom office signs in Houston
We specialize in virtually every kind of custom display and graphic. Houston Sign is the partner you want for all of your signage needs. Ready to get started?
Contact our team today for more information about the design, printing, and installation of our custom wall wraps!