If you're a business owner, you might not think that signage is necessary indoors, especially if you don't get any foot traffic. But there are several benefits that different interior office signs provide.
Lobby Signs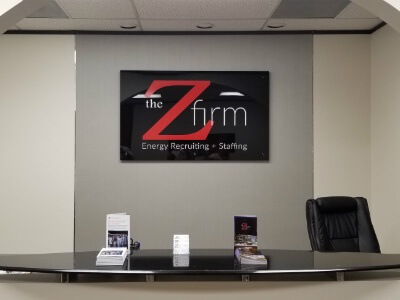 Of all the types of office signs, lobby signs may be the most important. Eye-catching branded graphics in your reception area will let customers know that you are the real deal. This is also an excellent opportunity to show off any slogans, taglines, or other information that may not work well on outdoor signs.
There are a variety of ways to incorporate signage into your building's lobby. Some of the most common indoor office signs include lobby plaques and door signs and acrylic, metal, and 3D lobby signs.
Sign placement is key to getting the most bang for your buck. Top location recommendations are in front of your lobby's reception desk and on the wall directly behind it. With your company logo front and center, customers will know exactly where they are.
Directional Signs
Wayfinding signs are a must for all office buildings. They provide customers and employees with clear, concise directions of how to find where they are going. For example, you can install simple plaques with offices and departments listed. If your building is large enough, you may consider including a map.
Ordering custom directional signs is a great opportunity to reinforce your brand throughout the building. Create coordinating designs that incorporate your company's style and color palette—don't settle for generic signage that everyone has seen a million times.
Wall Wraps & Decals
Custom wall graphics are also very popular and effective types of indoor office signs. They are incredibly reliable and can be used as a branding tool, decorative item, or to communicate a message. In addition, customers often perceive settings with wall wraps as highly professional establishments.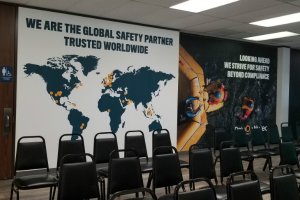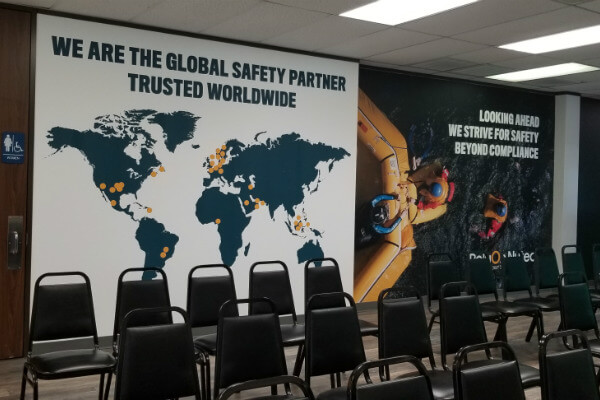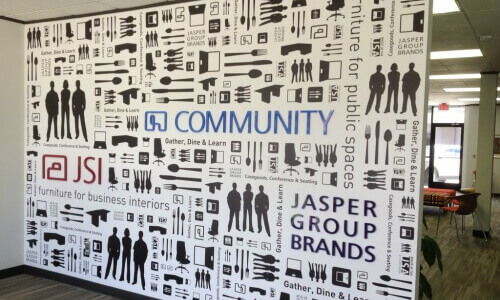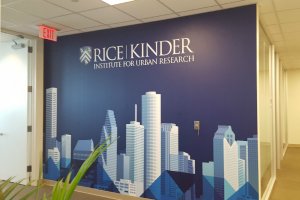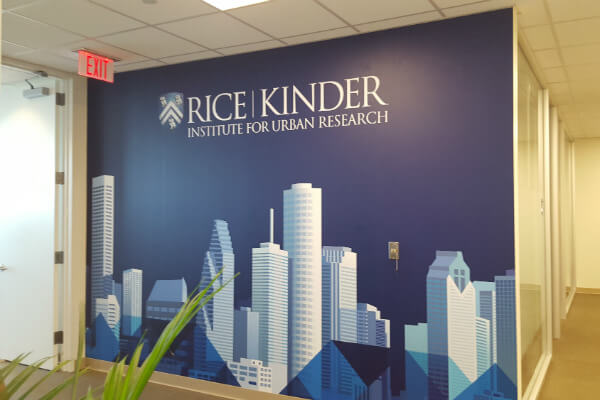 It's easy to build your brand with wall wraps. Vinyl murals can serve as short- or long-term office décor for your business. Custom wall decals are made of an advanced, high-quality vinyl material that can stick to any surface and is easy to clean.
Interior Banners
Interior banners can be a great option if you are looking for a visually-pleasing, cost-effective way to advertise or share information. Whether you're celebrating a colleague's birthday or promoting an upcoming event, indoor office banners are the way to go. In addition, there are numerous types of temporary announcements and seasonal messages you can convey with office banners.
Employee of the month
Company slogan
Holiday party
Mission statement
Customer appreciation
Sales goals
Business award
Work anniversaries
The great thing about banners is that you can hang them anywhere. Interior office signs come in a wide variety of shapes and sizes, and they are fully customizable. Plus, they're easy to hang and convenient to store.
ADA Signs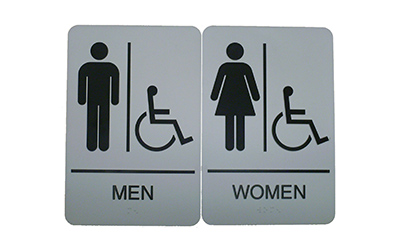 As you plan out your interior office signs, don't neglect this important category. According to Americans with Disabilities Act (ADA) regulations, all restrooms, numbered rooms, floor numbers, vending areas, emergency exits, and accessible parking must have compliant signage. This allows all disabled customers and employees to navigate their way around your building, particularly in an emergency.
In addition, there are government-mandated design requirements for ADA signs, such as what kind of braille should be included and how high they must be. Keeping your office compliant with ADA regulations will reduce your legal liability and ultimately ensure everyone who enters the building is accommodated for and safe.
Environmental Graphics
Lastly, custom environmental graphics can be applied to offices, businesses, and other types of commercial buildings. Different versions of interior environmental design include wall and glass graphics, themed and branded environments, and exhibition design. Additionally, environmental graphics are beneficial for enhancing the user experience through the visual communication of ideas in an office space.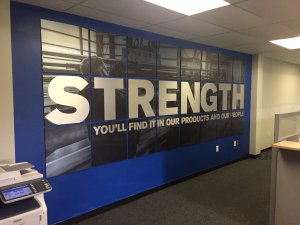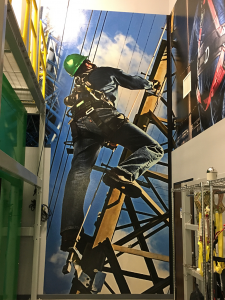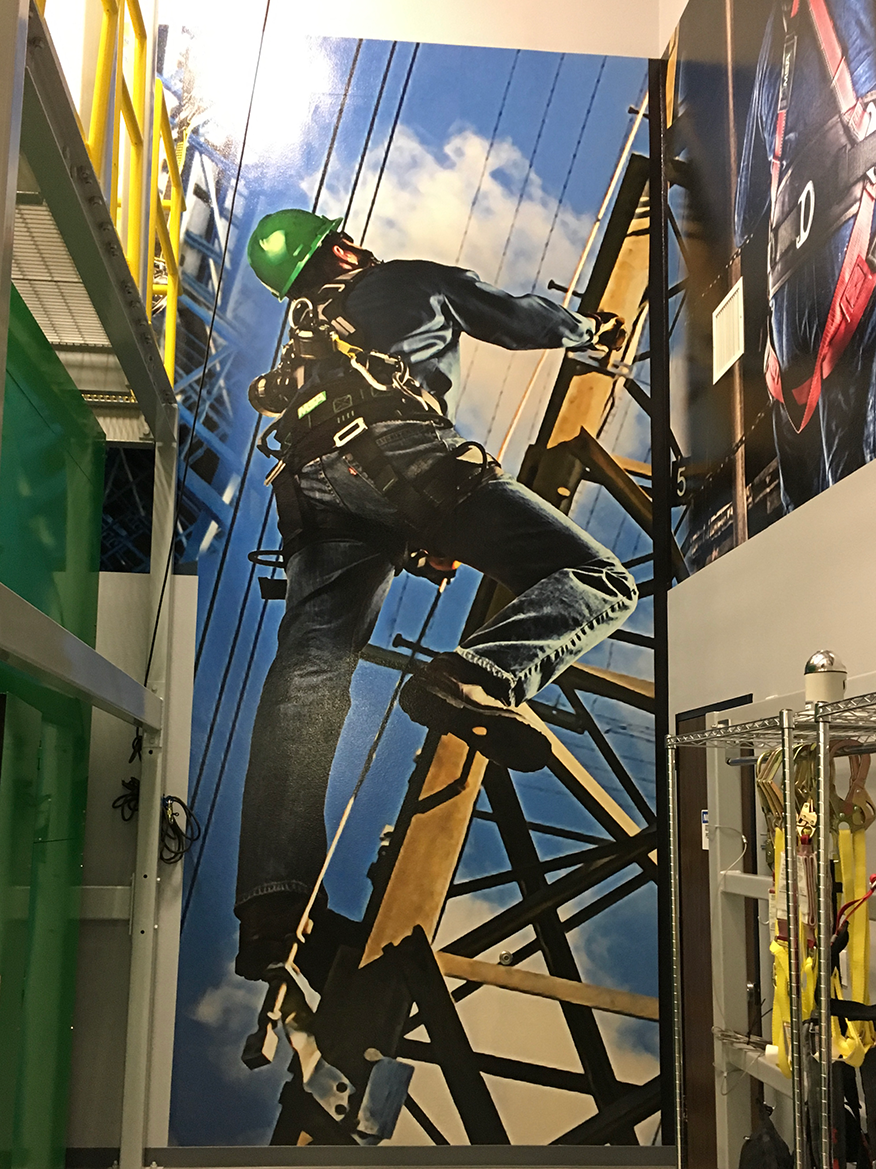 Partnering with the Best Interior Office Sign Company in Houston, TX
Did you know that workplace design has the potential to increase employee productivity? That's right—corporate signage culture can maximize your team's work ethic. So, put some effort into making your workspace a comfortable, inviting place for your hardworking employees.
As one of the top signage companies in Houston, we can produce a wide variety of indoor office signs, banners, posters, and wraps, depending on your specific application. The experienced team at Houston Sign can turn your ideas into reality, leaving you with a professional office design in no time. Check out our tips for designing a business sign.
Feel free to browse our online gallery for more interior signage inspiration! If you need ideas about indoor office signs and more, the knowledgeable design experts at Houston Sign are here to help.
Contact us today for a quote on your interior office signs, or place an order now through our online retail shop.