Shop Our Online Store for COVID-19 Signage Today!
Operating under the "new normal" is difficult for businesses. After all, new expenses have been added to the mix that have no positive effect on your revenue (other than keeping it above zero). In essence, COVID-19 business signs can feel like a tax. As a small business that has been serving Houston since 1946, we recognize this and do our best to deliver competitively priced signage to our neighbors.
Coronavirus Signs for Businesses in Houston
Returning to work doesn't have to be difficult or dangerous if you operate in an office or storefront. COVID-19 store signs can help elevate your current mix of storefront signs, and the proper safety posters for Coronavirus can enhance your office signs in Houston too.
The following mix of COVID-19 signage for business can be used for a successful return to work.
Learn More About Our Clear Social Distancing Barriers – Clearview Partitions
Clearview Partitions are designed to aid in social distancing within public spaces. These transparent systems will provide your customers with the confidence to return to their active lifestyle at places such as the gym, restaurant, office, and retail locations. The applications are practically endless. These partitions are simple to assemble, easy to clean, functional, and easy to store.
| | | |
| --- | --- | --- |
| Partition Size | Weight | Thickness |
| 4′ x 6′ | 20 lbs. | 16mm |
| 4′ x 8′ | 30 lbs. | 16mm |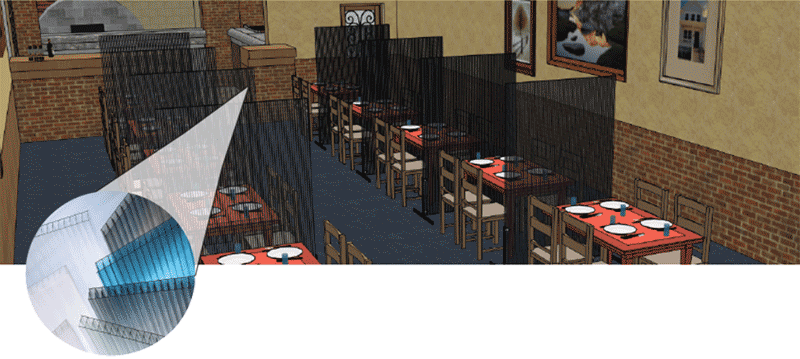 Pricing for Clear COVID-19 Social Distancing Barriers
See our pricing table below to determine the unit cost for your order depending on the volume and dimension you require.
| | | | |
| --- | --- | --- | --- |
| Partition Size | 10 | 25 | 50+ |
| 4′ x 6′ | $307.39 | $246.54 | $221.16 |
| 4′ x 8′ | $353.39 | $353.39 | $265.16 |
Check out Houston Sign's Clearview Partitions catalog for more information on these clear plastic barriers that may help slow the transmission of COVID-19.
Clearview Partititions Catalog
Contact Houston Sign for High-Quality COVID-19 Social Distancing Signs
The several products above are only a portion of what our sign company in Houston can offer your business. We provide quality banners, wall wraps and graphics, feather flags, and anything you need to successfully promote your business to passers-by.
Speak to one of our account managers today to discuss your COVID-19 business sign needs, and we'll steer you in the right direction!